Over the years, researchers have worked tirelessly to bring forth a lasting solution to incessant oral health challenges through toothbrushes. One of the solutions led to the advent of electric brushes, and these devices have come to stay. Luckily, they are fast gaining prominence and are doing the job for which they were invented; to improve oral health for all and sundry. They can get into the deepest nook and cranny of your dentition with ease and clean it all up to perfection.
However, just like you have to pick a car brand to buy among several ones, that's just how it is with electric brushes. Many brands have launched their version of electric brushes, but which one is the real deal and worthwhile? Well, this question is what we will be answering with this article as we proceed. For this reason, we have come up with a list of the top 10 best electric brushes with pressure sensors below.
All medical content on this site, including this guide and other product reviews, is written by our team of experienced writers and researchers. All writers from The Toothbrush Expert are recommended and reviewed in the industry. You support us through our editorially chosen links, which earn us commission. Learn more

All of our picks have the American Dental Association (ADA) Seal of Acceptance.
Quick Overview (comparison)
Top 10 Best electric brush with pressure sensor
According to the professional dentists and beauty salon owners, there are a few unsurpassed Best Electric Toothbrushes with a pressure sensor that are perfect for your teeth. In this article, we have listed the top ten best ones which you can choose and use it to get your white and shiny teeth.
1 – Oral-B iO Series 7 – Best Electric toothbrush with pressure sensor

(Best Pick 🥇)
Oral-B is widely known for its amazing products in the dental care industry, and this toothbrush is not an exception. This rechargeable toothbrush with pressure sensor is one of the latest in their product line and is specially AI-powered to be able to detect where it has cleaned from the part it has not touched. It is powerful yet gentle with its gradual vibration build-up from the head, making it easy to use, harmless, and non-intrusive.
As one of the best toothbrushes with a pressure sensor, your gum and enamel are safe as they would never get brushed hard at all.
Key features
Smart pressure sensor for a smooth brushing experience.
Comes with a travel case and one head replacement.
Customizable brushing with a display screen and timer.
Uses a magnetic drive system for its head.
Powered with Li-ion battery.
Bluetooth and an app to track your coverage.
Pros
Very minimal or no noticeable vibration when in use.
It is perfect if you have a sensitive dentition.
Its battery can last up to 5 days without recharging.
It gives a notice once you have spent only a minimum of 2 minutes brushing.
Cons
Comes with only one replacement head.
2 – Philips Sonicare ProtectiveClean 6500 Electric brush & pressure sensor
This toothbrush with pressure sensor is far more equipped than its other counterparts, with up to 3 modes and intensities to suit your tooth and gum type. And of course, it has a pressure sensor which has earned it a top spot on this list, but that's not all. It is specially built with Sonicare technology with up to a whopping 31,000 brush strokes per minute, which ensures all plaques are removed. In addition, this technology creates minuscule bubbles that can go right through gaps in teeth for extra cleaning.
Key Features
Li-ion battery that can last up to two weeks.
3-speed settings.
Comes with a charging travel case and charger.
It is packed with two replacement brush heads.
Pros
Particularly known for whitening teeth within seven days of use.
It has a brush head replacement reminder to let you know when to change the brush head.
You can switch between 3 modes; clean, whiten or gum care.
As a Sonicare brush, the head is compatible with other Sonicare brush models.
Cons
It does not come with an app for brush coaching.
3 – Philips Sonicare DiamondClean Smart 9300 Electric Power Toothbrush
This is also very similar to the powered toothbrush with pressure sensor discussed above, with some slight differences. It also has different modes and intensities to choose from to suit your preference. The pressure sensor does not only pulse when the toothbrush is being pressed too hard against the teeth. But it also has light to further indicate hard brushing. The amount of time you spend using it determines the nature of care it gives your teeth. 20 seconds is for tongue cleaning only, 2 minutes mode is for a standard clean tooth, 2 minutes 40 seconds mode is for white+, and 3 minutes 20 seconds mode is for gum care.
Complete product review – the Sonicare DiamondClean
Key features
3 brush head types.
4 cleaning modes with 3 intensities setting.
Automatic syncing of brush head and handle.
110V-220V.
3D mouth map and Sonicare app coach
Pros
Arguably Philips' best Sonicare toothbrush to date.
It removes up to 10 times the plaque in your mouth.
It is water-resistant.
Gum health and whitening are guaranteed with this brush.
Visible result in 3 days after you begin to use.
Cons
4 – Oral-B Pro 1000 CrossAction Electric brush + pressure sensor
One selling point of this electric brush with pressure sensor is that it is from Oral-B and it is quite cheap, probably the cheapest you would ever find. Its unique brush head is also crafted to give a special cross action when cleaning the teeth. Due to this rare brush head design, it sweeps through your dentition with its 16-degrees angled bristle to remove up to 300% of the plaque in the teeth.
Key features
CrossAction soft bristle.
In-handle 2-minute timer.
Compatible with all brush heads asides iO.
1 charger and 1 brush head
NiMH Battery powered.
Charging light indicator.
Pros
It provides daily clean at 20,000 pulsations per minute.
The battery can last up to 7 days.
The brush head is interchangeable with others in the same series.
Gives a 30-second reminder to clean missed areas of the teeth.
Cons
It takes almost 24 hours to charge fully.
It is a bit noisy due to the motor.
5 – Philips Sonicare ProtectiveClean 4100 Electric Power Toothbrush
This is yet another Sonicare electric brush that guarantees to remove up to 7 times the plaque in your teeth. You can also be sure of brushing the recommended 2 minutes with the in-built smarter technology. One interesting fact about this electric toothbrush is that it comes with an Easystart mode that helps new users gradually adapt to the vibration of a powered toothbrush. This feature allows for the performance to gradually build-up up to 14 days after first use.
Key Features
Quadpacer and smarter technology.
A specially curved tip.
Sonic Technology embedded.
High-quality bristle.
Brushsync reminder for brush head.
Pros
It can easily reach the back of the teeth with its curved tip.
It is suitable for use on braces, veneers, fillings, etc.
Buzzes you every 30 seconds to move position in different quadrants of the mouth when brushing.
It comes with one Li-ion battery.
Cons
It does not come with a travel case.
6 – Oral-B Smart 1500 Electric toothbrush
This is similar to the 1000 series but with a few upgrades that set it apart. Generally, this is a good brush with decent features for an average electric brush user. More so, it is one of the cheap ones in the Oral-B product line of electric brushes with pressure sensor.
Key features
3D Cleaning ability.
2 modes of cleaning; DailyClean and Sensitive.
In-built timer and a quad pacer.
CrossAction brush head.
Pros
It can last up to two weeks when fully charged.
Vibrates at about 45,000 pulsations per minute for thorough cleaning.
Ergonomic design for easy grip and use.
Cons
It does not come with an extra brush head or travel case.
7 – Philips Sonicare ProtectiveClean 5300 Electric Power Toothbrush with pressure sensor
This is one of the best electric toothbrushes with pressure sensor and it is power-packed and fully equipped with lots of extra kits to make its use seamless. Just like others on this list, it also has a pressure sensor to avoid brushing too hard on one quadrant of the teeth and gum. It also has a battery indicator light that notifies you when it needs charging. Interestingly, its SmarTimer technology and quad pacer allow it to shut down after 2 minutes; this way, the battery can last long up to two weeks. Lastly, it can provide general cleaning, whitening, and gum care when properly set.
Key Features
3 cleaning modes.
Travel case and charger.
1 optimum brush head.
2 extra Diamond Clean brush heads.
1 Li-ion battery.
Pros
The Brushsync technology reminds you of the brush head's health and the need for a replacement.
As a new user, the easy-start feature allows you get adapted to the vibration.
You can customize your cleaning experience with the different cleaning modes.
Cons
It has no app-coaching for real-time guidance while brushing.
Just like other Philips product line, it is pricey.
8 – Goby Electric brush – ADA-Accepted electric toothbrush with pressure sensor
This may be a newcomer in the world of electric brushes, but definitely, it has some great features. It is also IPX7 rated, which means it is water-resistant and can go with you even into the shower. When you buy this brush, you can either choose the regular or sensitive speed based on your preference. The battery is so strong that only charging twice per month is okay for it to last two minutes every day.
Key Features
10 hours full charging.
USB charger.
Brush head travel cover.
1 AA battery.
Pros
It is fully certified by the American Dental Association for its superior performance.
It is proven to remove plaque and even reduce the risk of gingivitis.
There is a lifetime guarantee that assures you of replacement if any problem occurs.
Cons
The travel case is only for the brush head.
It does not come with replacement brush heads.
9 – Waterpik CC-01 Complete Care 9.0 Sonic Electric brush and water flosser combo
This is another good electric toothbrush that stands for not only having sonic technology but also a water flosser. The electric toothbrush and water flosser combo cleans at 31,000 strokes per minute, and the water flosser allows for easy flossing as your brush. So, if your brush misses any spot in between the teeth, the water flosser is bound to come to the rescue. Whether you have braces or veneers, or implants, it cleans it perfectly. Moreover, water floss is more effective than the typical string floss, just like the electric brush is far better than manual brushes.
Key Features
5 water flosser tips.
3 cleaning modes.
90- second reservoir water capacity.
Travel case cover.
Pros
You can brush and floss your teeth at the same time.
It has a magnetic cradle to hold both the brush and flosser firmly.
It can clean, whiten, or massage at different intensities.
Cons
Sometimes, the water flosser leaks if not properly shut off.
10 – Philips Sonicare for Kids 3+ Bluetooth Connected Electric Power Toothbrush
This is the only electric toothbrush with pressure sensor specially made and suitable for the fragile dentition of kids on this list. It has most of all the features tha an adult's electric brush has but with no pressure sensor. It helps kids to quickly adapt to the idea of brushing for the Dentist's recommended 2 minutes. The interactive app helps kids to enjoy brushing to the maximum.
Key Features
Sonicare technology.
Stickers to beautify.
1 angled brush head.
1 Li-ion battery.
Pros
Battery lasts up to two weeks.
Special brushing tips for kids.
It helps kids to learn how to brush properly.
Cons
The brush head may be too big for kids between ages 1 to 2.
Buying Guide
A complete guide were you should pay attention to when buying an electric toothbrush with pressure sensor.
What should you pay attention to when buying this product?
Buying an electric brush is an intentional decision because you want the best. Whether you decided to buy it yourself or your Dentist recommended it, it is meant to improve your dental health. Therefore, you must lookout for a few things before buying:
Cleaning mode
Different manufacturers have different values they provide to the users of their toothbrushes, and knowing this helps you decide which is best for you. The best electric brush with a pressure sensor should combine cleaning, whitening, and gum health together. Nonetheless, some others have optional features like flossing or deep-clean. Ultimately, the cleaning modes of your toothbrush determine how clean it will leave your teeth.
Brush head
Coming after the cleaning mode is the brush head type that comes with your toothbrush or that is compatible with it. In this case, you want to look at the size of the brush head and the quality of the bristle. To determine the best for you, know the sensitivity of your teeth and gum as this will guide you. Remember that the power of any electric brush lies in its head.
Stroke
Powered toothbrushes could either be rotating/oscillating or sonic/ultrasonic in their action. While some brushes have just one type of stroke motion, others combine both. The sonic can be a bit aggressive, especially if your gum is sensitive.
Value-added Features
Numerous features such as a quad pacer, in-built timers, travel case, battery strength also vary from brand to brand. Thus, make sure you carefully read the features of any brand you intend to buy that it ticks everything on your list.
Good
Better
Best
Curaprox 5460 Ultrasoft Toothbrush, 3 Pack
Oral-B Pro 1000 Rechargeable Electric Toothbrush, Black
Waterpik Sonic-Fusion 2.0 Professional Flossing Toothbrush, Electric Toothbrush and Water Flosser Combo In One, White
What is a pressure sensor, and why is it important?
Almost all modern electric brushes have the pressure sensor feature, enabling users to apply just the right amount of pressure when brushing. This feature ensures that you do not press too hard on your teeth or gum and eventually hurt yourself. Once the pressure sensor detects extreme press of the brush on the teeth, it immediately responds using various methods. The method of response depends on the manufacturer; some have green/red light indicators to alert the user. At the same time, others slow down the speed of vibration of the motor driving the toothbrush. Either way, the important thing is to detect it and act against it to make sure your dental health is not compromised.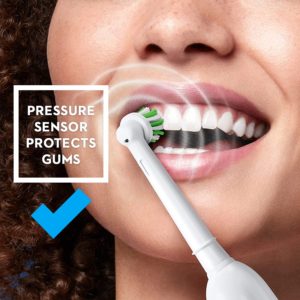 Advantages of the best electric toothbrush with a pressure sensor
The integrity of your gum will remain intact.
You can be rest assured of optimum efficiency and effectiveness with the pressure sensor.
This feature ensures that enamel that protects and covers the teeth is not damaged due to hard brushing.
It ensures that all parts of the teeth get equal attention and brushing.
Disadvantages of the best electric toothbrush with a pressure sensor
It is generally more expensive than both a manual brush and the average electric toothbrush.
They can be noisy sometimes.
If it falls too frequently, it could break or malfunction.
Where should you buy your toothbrush?
You can purchase your preferred electric brush either online or offline. You could walk into major stores like Walmart to get yourself one, or simply order online from Amazon.
Frequently Asked Questions
Do all electric brushes have pressure sensors?
No, not all electric brushes automatically have a pressure sensor. The most basic electric brush is not built with a pressure sensor; only recent advanced types do. But this pressure sensor is one of the major differences between an electric and manual brush.
Which electric brush has a pressure sensor?
There are several ones, but the most prominent in the industry come from Oral-B and Philips. These two brands have dominated the market for a very long time with their diverse range of products. Their products offer many different features that appeal to the interest of different users across the world.

Even dentists often recommend this product to their patients. Other brands include Goby, Waterpik, etc.
Does the Sonicare Diamond Clean have a pressure sensor?
Yes, it has a pressure sensor, and the upside is that it even has a light indicator. This indicator visibly shows when the pressure applied is too much. It has a blue-colored ring at the bottom that comes on when the brush is pressed hard. The Sonicare diamond clean after detecting high pressure when brushing will reduce the motor speed. Then it will turn on a light indicator and also inform/warn the user through their app coach.
What happens when I brush too hard?
The cumulative effect is on the teeth and gum. Although the effect may not be visible instantly, it would eventually come to light. The effect of brushing too hard is relative from user to user. While some have really tough teeth and gum, others have very fragile and sensitive ones that react quickly.

The bristle of your brush also determines how hard it will brush the teeth when pressure is applied. Even when brushed hard, a soft bristle will do little damage to the teeth or gum, while a typically harder bristle will wreak more havoc.
Do I get an audible warning?
Commonly, there is no distinctive audible warning as regards brushing hard; however, the shyn brush does give a beep warning. Asides from the shyn brush, the only form of an audible warning from other brushes is the change in the motor sound when the pressure is higher and when it is not. And if you are not observant, you may not notice the change in the motor sound. So, just stick to the light, and your app as the case may be.
Can I use my toothbrush in the bathroom?
This question is relative to the IP rating of the toothbrush you use; some are capable of handling water splashing on them while others cannot. Just know your toothbrush and act according to the manufacturer's instructions. Look out for the IP rating of the toothbrush you are interested in buying as well. The better the rating, the more water-resistant it is.
How long does it take to fully charge?
This is yet another question that has no straightforward answer. It is also relative to the capacity of the battery the electric brush is carrying. The longer the battery lasts, the more you are likely to charge it. Be prepared for a minimum of 15 hours charging on an average to fully charge your brush.
Final verdict
It is apparent that your dental health is your sole responsibility to take care of for it to be in pristine condition. Thus, you should strive to use the best products to ensure that it is kept healthy. Having a good brush is good for your oral health, but having a great electric brush is a great and excellent choice. It is especially encouraged to use a powered toothbrush because it improves your brushing habit; since it ensures you brush for the 2-minute Dentist's recommended time or even more.
Undoubtedly, this brush makes life much easier and brushing more fun for both kids and adults. However, you should ensure that you work with your Dentist to get the best out of your electric brush. Your Dentist's wealth of experience cannot be undermined when trying to get an electric toothbrush with pressure sensor. They can guide you in making the right pick that will give you the best value for money spent.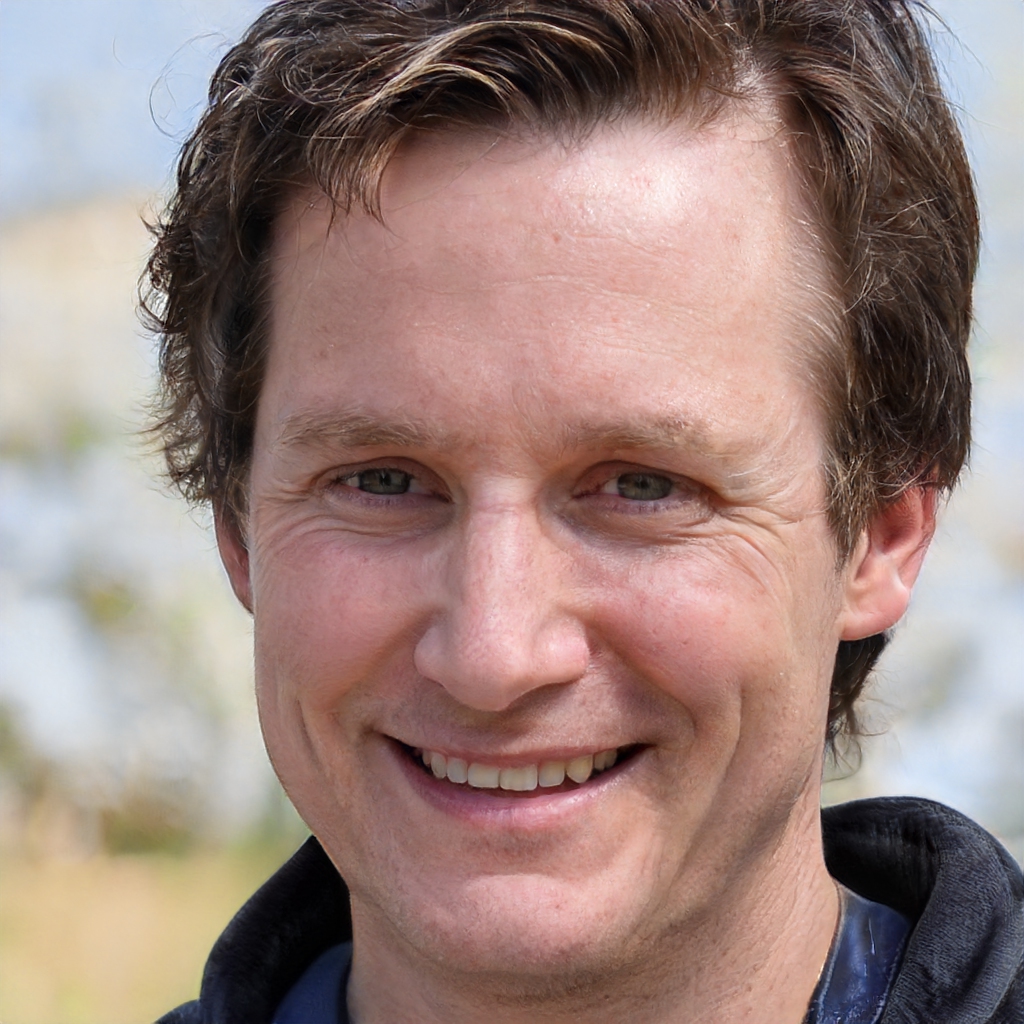 Dr Michael Jones is the proud founder of The Toothbrush Expert. He has been working as a dentist for 21 years now. Besides his work as a dentist, Michael wants to help people to find the right dental products. His goal is to provide everyone with honest expert reviews on all kinds of dental care products.