If you're looking for the best mouth guard for grinding teeth, you've landed in the right place. Grinding and clenching your teeth while you sleep – also known as bruxism – can cause all kinds of problems for your teeth, mouth, and even your head! Many people struggle with headaches, damaged tooth enamel, and even chipped or cracked teeth because of their bruxism.
Below, we take a look at the 10 best mouth guards for grinding teeth. And they don't just help with bruxism. Most of them can improve TMJ – a painful jaw dysfunction – and can double as sport teeth guards and whitening trays.
All medical content on this site, including this guide and other product reviews, is written by our team of experienced writers and researchers. All writers from The Toothbrush Expert are recommended and reviewed in the industry. You support us through our editorially chosen links, which earn us commission. Learn more

All of our picks have the American Dental Association (ADA) Seal of Acceptance.
Quick Overview (comparison)
The Ten Best Mouth Guards for Grinding Teeth
According to the professional dentists and sleeping experts, there are a few unsurpassed best mouth guards for grinding teeth that are perfect for your teeth. In this article, we have listed the top ten best mouth guard for grinding teeth which you can choose and use it to get a perfect life back.
1 – Neomen Professional Dental Guard

(Best Pick 🥇)
The Neomen guard is top on our list because the price is fantastic and the quality isn't compromised. Conveniently, the pack includes 4 guards in 2 different sizes. These guards are made using the "boil-and-bite" method – something you'll see a lot of on this list.
Boil-and-bite simply means that you boil the guard to make it soft before biting into it to make your permanent dental impression. Now you have a guard that fits exactly to your teeth. The material is moldable so that it forms around your pearly whites for a tailored fit.
As an added bonus, you can also use these guards as whitening trays. A case for storing is included with the pack so you can keep your guard clean, dry, and in good condition. You can opt to make both top and bottom molds, although many people find that just a top guard works fine. If you decide to do this, you'll have a second guard in the same size when your first one wears out.
The antibacterial case is important because you want to keep your guard perfectly clean. Remember – there's loads of bacteria in the mouth, so you want to keep your guard meticulously clean to avoid odor and keep good dental hygiene. FDA certification means that this device meets all quality and safety standards of the FDA.
Key features
Two sizes
Pack of four
Antibacterial case
Moldable guards
Reusable
FDA certified
Pros
Dual purpose mouth guard and whitening tray
Comes with a total of 4 guards to find the right fit
Cons
You have to be meticulous with the instructions or the guard will shrink in the water
2 – DenTek Professional-Fit, for teeth grinding

(Eco Pick 🥈)
This is another boil-and-bite mouth guard at an astonishingly low price. Your pack will come with 1 guard, you can heat it, shape it, and wear it with perfect fit. Again, you can use these guards as a whitening tray if you like to do at-home teeth whitening.
The Dentek Professional guard comes with an antibacterial case and is easy to clean. There's also a perfect fit guarantee, so you can return these guards at no cost if you have any difficulty obtaining the perfect fit.
For safety, this guard is made of non-toxic BPA-free materials. Guards like this can help with a wide array of issues related to bruxism including headache, ear ache and stiff shoulders. BPA stands for bisphenol A – an industrial chemical. Since BPA has been linked to a number of health issues in humans, you want to be sure and look for BPA-free mouth guards, like this one.
Key features
Antibacterial guard case
1 guard
Heat, shape and wear
Can be used as athletic mouth guard or whitening tray
BPA and latex-free
Pros
Inexpensive
Perfect fit guarantee
Cons
It can take a few tries to get the molding right
3 – Sparkling White Smiles Dental Lab Night Guard

(Premium Pick 🥉)
If you're in the market for a fully-custom upper dental guard that fits your exact teeth, this guard from Sparking White Smiles might be what you've been looking for. This is a medium-firmness guard for your upper teeth only and it's made from latex-free medical grade material.
With this company, you create an impression of your teeth and they send you back a customized fit guard. Impressively, this guard is made from the same material you'd get if you obtained one from your dentist. Although it's one of the more expensive items on our list, this guard is still far less costly than any guard a dentist will sell you.
Because mouths are sensitive, the guard is made from anti-abrasive material. This will help you avoid one of the most common complaints about mouth guards – that they rub the gums or tongue in a way that makes them too uncomfortable for nightly wear.
With this guard, there's no unnecessary bulk. So you should be able to wear it without any interruption to your sleep or comfort. Impressively, the lab that makes these guards based on your impressions has been doing this for over a decade using high-quality medical grade material. And because these guards are hand-made by professionals with a keen eye for detail, this guard will probably have a more exact fit than many others.
Lastly, these guards are latex and BPA-free so you can wear them with confidence and peace of mind.
Key features
Medium firmness
For upper teeth
Anti abrasive material
Not bulky
Made for optimal comfort
100% satisfaction guarantee
Pros
Soft but strong
Made from BPA and latex-free medical grade material
Cons
On the higher end price-wise
Somewhat bulky
4 – Oral-B Nighttime Dental Guard
Oral-B is a familiar name in dental hygiene and they offer mouth guards as well. This package includes a one-size-fits-all nighttime dental guard and protective case. Interestingly, this guard has a fresh dental taste!
To mold this guard, you just need 3 minutes and a microwave! This guard is thin, lightweight, and has a customized fit. The included case has vents which are nice because it allows your guard to dry after being cleaned.
Surprisingly, this guard is very durable and long-lasting for the price. Typically you can get around 12-18 months of use out of it even if you're a severe clincher or grinder. Unlike a lot of other guards, you can actually remold this one if it wears down or you don't get it right the first time. Simple reheat and remold the guard to your liking!
Key features
Custom moldable
Less than 3 minutes to custom fit
BPA and latex-free material
Scope mint flavor
Includes guard, impression, tray and case
100% satisfaction guaranteed
Pros
Durable and comfortable fit
Nice taste
Cons
There's a seam in the middle which might bother some people
The mint flavor doesn't last long
5 – DenTek Comfort Fit Dental Guard
This guard is a lot different than the others on the list. Rather than a mold that fits around your teeth, these bite pads cushion your back teeth at the point of clenching. In this way, you can keep from grinding your teeth without having a guard cover all your teeth.
This option is great if you're bothered by wearing something over your teeth or find standard guards too bulky and uncomfortable. Also, because there isn't a full mouth guard, there's no boiling, heating or molding required. You can use this guard right out of the box.
To get the perfect fit, you just use the adjustable band that goes around the front of your teeth. The package includes two guards and one anti-microbial case. The DenTek Comfort Fit guard is thin, comfortable, and designed to last around one year.
Key features
Ready to wear
Bite pads
Adjustable band
Easy to wear
Does not need to be boiled or molded
BPA free
Pros
No set up necessary – ready to wear
Not invasive or bulky in the mouth
Cons
The tubes can rub the tongue but can be trimmed
6 – Fairywill Multi Use Moldable Mouth Guard
No products found.
This pack of guards is almost to good to be true. There are ten guards in all and the price is one of the most affordable on our list. The guards are reusable, so this one package can last you quite a long time.
The moldation process of these guards is super easy. You just trim the tray, warm it with hot water, and place it in your mouth to conform it to your bite. You can use the guard for grinding, clenching, sports activities, and teeth whitening.
For safety, Fairywill guards are made from non-toxic BPA-free medical grade materials. You can use these guards on both upper and lower teeth or just one of the two if you prefer. Conveniently, these guards can be used for adults and children – just trim the guard to fit any size mouth!
Key features
10-pack
BPA free
Comes with case
Multi-use
Easily moldable
Tremble
Pros
FDA approved and BPA free
Comes with 10 guards
Cons
May need to be trimmed several times for a perfect fit
7 – The ConfiDental 5-Pack Moldable Mouth Guard
If you're looking for a little versatility in one pack, the ConfiDental 5-Pack Moldable mouth guards might be right up your alley. This option includes 3 regular guards and 2 heavy-duty guards. Also, you can fit these guards to any size mouth – adult or children.
If want a more heavy-duty, thick guard, you'll find that there are 2 included in the box. But if you prefer a thinner more lightweight guard, there are 3 of those. These are boil-and-bite guards and they can be ready in just a few short minutes.
The regular guards are 3mm thick and the heavy duty guards are 6mm thick. All guards can also be used as sport guards or teeth whitening trays. For people with sensitive teeth and gums, this guard is a good option. It's made of safe, high-quality material that's designed for comfort and ease-of-use.
Key features
Pack of 5
Moldable guards
Can be used as whitening tray
3 regular and 2 heavy duty guards
Reusable
Easy to clean
Pros
Comfortable and intended for any mouth size
Easy to clean
Cons
The boiling may require some trial and error
The heavy duty guard is thick
8 – Pro Teeth Guard Custom Dental Night Guard
If you're looking for a high-end mouth guard that is custom fitted by professionals, the Pro Teeth dental night guard is probably right up your alley. This is one of those guards where you create an impression, mail it to the manufacturer and then wait for your custom guard to arrive in the mail.
While this kind of guard requires a more significant investment of both time and money, many dentist's recommend an exact, professional mold for best results from a guard. Although expensive, this guard is still considerably less than having your dentist create one for you.
In addition to giving you a custom fit, this guard is made from top-of-the-line dental industry materials. To sweeten the deal, this manufacturer is so confident in your satisfaction that they offer a 100% money back guarantee.
There's a hard acrylic outer later to ensure durability and the inner layer of the guard is made from soft laminate for maximum comfort. This kind of guard can help you avoid a lot of common issues that people have with other guards – namely that they are difficult to create and never quite feel just-right.
The impression instructions are easy to follow and pretty fool-proof. Trays for both upper or lower teeth are provided so that you end up with two completely custom guards.
Key features
Professional quality
Custom fitted
Take an impression and send to manufacturer
High-quality dental industry material
Soft laminate for comfortable fit
110% money back guarantee
Pros
Custom fit to your own teeth
High quality materials
Cons
9 – Ora-Guard Dental Grind Guard
The Ora-Guard dental grind guard is made from a soft medical grade material, but the soft layer is built around a sturdy hard surface that keeps your teeth well-protected and prevents the guard from breaking down.
This guard is unique in that it sits over your back teeth only. This makes for improved comfort. The custom-like fit can be achieved by using either a microwave or simple pot of boiling water. Interestingly, Ora-Guard uses a unique, patented bite plate wedge that helps relieve tension in the jaw muscle.
One of the best things about this guard is its no-slip fit. It gets top marks for comfort, ease-of-use, durability and its unique design. However, it does tend to run on the small side. So if you have a big mouth – no offense – this guard might not be the right fit for you!
Key features
Dental grind guard
Patented bite plate wedge
No-slip fit
Easy custom-like fit
Flexible strap
Medical grade material
Pros
Inexpensive
Not thick or bulky
Cons
10 – Leesgel Kids Mouth Guard for teeth clenching
Sadly, kids suffer from sleep bruxism too. If you're looking for a mouth guard for a youngster, the Leesgel Kids Mouth Guard might be the right pick for you. This pack includes four guards that you can mold through the boil-and-bite method.
If your kid is into sports, you'll appreciate the multi-functional nature of this guard. You can confidently purchase this item for your family knowing that it's made of safe, non-toxic EVA material.
Kids can be sensitive to new or intrusive things, but this guard is lightweight, small, and comfortable so children can wear it without annoyance or frustration. Just be careful while boiling the guard before fitting it. Save any trimming for after you've molded the guard as it will shrink in the boiling water!
Key features
Made for kids
Pack of 4
Can be used as athletic mouth guard
EVA material
Molded custom fit
Comfortable
Pros
Made specifically for small mouths
Safe and non-toxic
Cons
You have to watch carefully while boiling or it will shrink dramatically
A simple buying guide to determine the best mouth guard for grinding teeth
A small overview with all the insights you need to know when buying a mouth guard for teeth grinding.
What to pay attention to when buying this product
Now that you're well-versed in some of the best guards, you might be wondering which is the winner for you? Below, we take a look at some additional considerations including benefits and disadvantages of mouth guards.
Boil and bite or custom impressions
Many of the guards you can purchase outside of the dentist's office are one-size. You can trim them if necessary and then use the boil-and-bite method to mold the guard to your mouth. Also known as the heat, shape and wear method.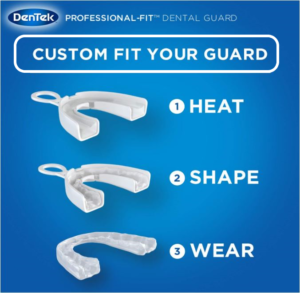 But if your grinding and clenching are severe, it's usually recommended that you get a mouth guard that's tailored for your mouth by a professional. A guard like the Pro Teeth Custom Guard is a good example of an exact-fit custom guard that leaves nothing to chance.
With professional impressions, there is more cost and a considerable time investment involved. And depending on the manufacturer, you could be in for a bit of a wait before you receive your guard. However, most dentists say this kind of guard is vastly superior to a boil-and-bite.
Cost
There's a huge range of cost when it comes to mouth guards. The guards made from your dental impressions could run as high as $500-$800. On the other hand, many people are fully satisfied with guards they purchased from the store for less than $50.
When people have severe issues resulting from bruxism, it can be worth it to invest in one of the higher-end guards. But you could always try one of the inexpensive ones first to make sure you don't have issues with a wearable dental device. In rare cases, guards are problematic and cause new pain and irritation, so some trial and error might be in order.
Care
We all know that when something adds difficulty to our daily routine, we quickly lose our patience with it. Some mouth guards are very simple to clean and others are pretty involved. Sometimes small annoyances can keep us from doing things that are good for us, so do some research on which guards are reasonably simple to clean and keep in good shape.
Design
There are some pretty interesting variations in the world of mouth guards. While many cover all of your teeth, some only cover your molars and a few are bite-pads that go between your last set of teeth. Likewise, some people wear both top and bottom guards while many prefer to wear just one.
If you're incredibly sensitive to the way things feel or you have particularly sensitive areas in your mouth – gums, teeth, or tongue – you might want one of the less invasive guards like the DenTek Comfort Fit mouth guard.
Materials
We know you're used to examining the materials just about any time you make a purchase. But this could never be more important than when something will be sitting in your mouth all night long. Look for mouth guards that specify on the package that they are BPA-free. BPA is a known toxic chemical and it's best to avoid it at all costs. Another thing you'll commonly see on mouth guard packaging are the words "latex free." The reason you want to avoid latex in a nighttime mouth guard is that many people have a latex allergy.
Even if you aren't sure whether you're allergic, avoiding latex is a safe bet. Latex allergies can cause itchy skin, hives and even anaphylaxis (possibly life-threatening swelling of the throat), so it's definitely better to be safe than sorry when it comes to this ingredient!
Advantages of a mouth guard for grinding teeth
It's usually a dentist that recognizes the need for a night mouth guard. While they're up close and personal with your teeth, they can see the signs of unnatural wear and tear on your enamel. Usually, they're the ones to suggest a guard to prevent further damage.
Below, we take a look at some of the specific advantages of a mouth guard for tooth grinding.
Saving Your Teeth
Although a mouth guard won't stop you from clenching and grinding your teeth, it will prevent further damage to your teeth and minimize the effects and impact of these habits. Having a guard in place will keep you from further damaging your tooth enamel or causing cracking or chipping. Commonly, people with sleep bruxism will use their bottom front teeth to push hard against the back of their front teeth. Mouth guards stop this action from occurring.
Improving Sleep
By wearing a mouth guard, you can improve your own sleep habits and patterns. The noise, tension, and pain from clenching and tooth grinding can definitely disrupt your sleep and compromise its quality.
This can also disrupt the sleep quality of anyone who happens to be in the same room!
The addition of a mouth guard to your nightly routine can improve your bedtime experience all-around. Coincidentally, getting enough quality sleep helps ease anxiety, tension and headaches.
Reducing Headaches
Many people will bruxism suffer from morning headaches. After a night of clenching and grinding, the pressure can wreak havoc. Mouth guards can help minimize or even eliminate these kinds of tension headaches.
TMJ (Temporomandibular Joint)
TMJ is a sometimes serious condition that causes pain and compromises jaw movement. In addition to causing pain, it can create a clicking sound and make it difficult to chew. Mouth guards worn at night can help with TMJ because clenching and grinding can make TMJ even worse over time.
Multi-Purpose Use
Another thing that's great about these guards is that they can be used for multiple practical purposes. If you play sports or engage in any physical activity like boxing, these guards can all double as a protective guard. And if you like to perform at-home tooth whitening, these nighttime mouth guards can serve as a teeth whitening tray.
Disadvantages of a mouth Guard for teeth clenching
Unfortunately, there's good and bad to everything and mouth guards are no exception. There are a few common complaints about wearing a mouth guard at night. Below, we take a closer look.
Inconvenience
In all honesty, it can be a hassle to worry about wearing your mouth guard every night. Night time is supposed to be for relaxing, resting getting a good night's sleep. Putting in your mouth guard can feel disruptive or annoying. However, it's worth noting that the inconvenience is short-lived for most people.
Advances over the years have resulted in extremely lightweight, non-invasive and comfortable mouth guards. Most people who benefit from them don't mind the minor inconvenience of wearing them.
Discomfort
Sometimes guards are just a pain in the mouth. While some people are completely unbothered by them, others dread saying "ah" for these dental devices. That's why it's important to not just settle for any old mouth guard. Research specific items for their comfort and popularity.
A well-fitting mouth guard shouldn't rub, irritate, or bother you in any way.
Frequently Asked Questions (FAQ)
Will a mouth guard help with teeth clenching?
Yes. Teeth-clenching can be helped by a good mouth guard. The guard acts as a cushion between your upper and lower teeth, so the impact of your clenching is less severe. Also, the guard helps protect the enamel of your teeth from being ground down or even chipped.
How do I stop grinding my teeth without a mouth guard?
There are some pretty interesting ideas out there about how to stop grinding without a guard. There are people who have had luck with cognitive therapy, hypnosis and general de-stressing. If your clenching and grinding are a result of anxiety and stress, it's possible that the issue could be resolved through wellness practices.
What is the most comfortable night guard?
If you have a strong gag reflex, you'll find a lower mouth guard to be most comfortable. However, if you have dental work or missing teeth down below, you should opt for a top guard.

As far as specific night guards, there are many that give a comfortable fit. The Oral-B Nighttime Dental Guard is thinner than most, making it less bulky and intrusive. You want to look for a guard that's flexible, not too stiff or thick, and a good fit for your chompers.
Is Upper or Lower night guard better?
Some people have guards on both upper and lower teeth. A guard in either place will have generally the same effect. It will keep you from grinding and clenching.
Can night guards ruin your teeth?
One concern with night guards for teeth is that they don't actually stop you from clenching and grinding. They just help minimize the effects. And if a mouth guard is ill-fitting it can actually shift your bite or cause jaw pain. That's why a good fit is important.
How long do reusable mouth guards last?
Most reusable mouth guards last anywhere from 6 to 18 months. It all depends on the materials, quality, and also the severity of your sleep bruxism. Naturally, some people will wear their guards down more quickly with the intensity of their condition. Many guards are so inexpensive, it should be no issue replacing them every year or so.
Conclusion
The best mouth guards for grinding teeth can definitely save you trouble and (sometimes) headaches! Bruxism can be the cause of issues we never knew were linked to grinding and clenching, like head and jaw muscle pain, sensitive teeth, or bites on the inside of the cheek.
These guards come in many different varieties and prices range from impressively inexpensive to seriously steep. Depending on the severity of your condition and your exact needs, there's certainly a mouth guard that's right for you.
So what's the best mouth guard for grinding teeth in 2022? Our money is on the Neomen Professional Dental Guard. You can't beat the price and you don't have to sacrifice quality. The guard is easy to mold, durable, comfortable, and impressively multi-functional.
Whichever guard you choose, remember that the best mouth guards for grinding teeth are ones that are made of non-toxic high-quality materials and feel lightweight and comfortable. Once you get your hands on a good guard, your mouth – and your sleep patterns – will thank you!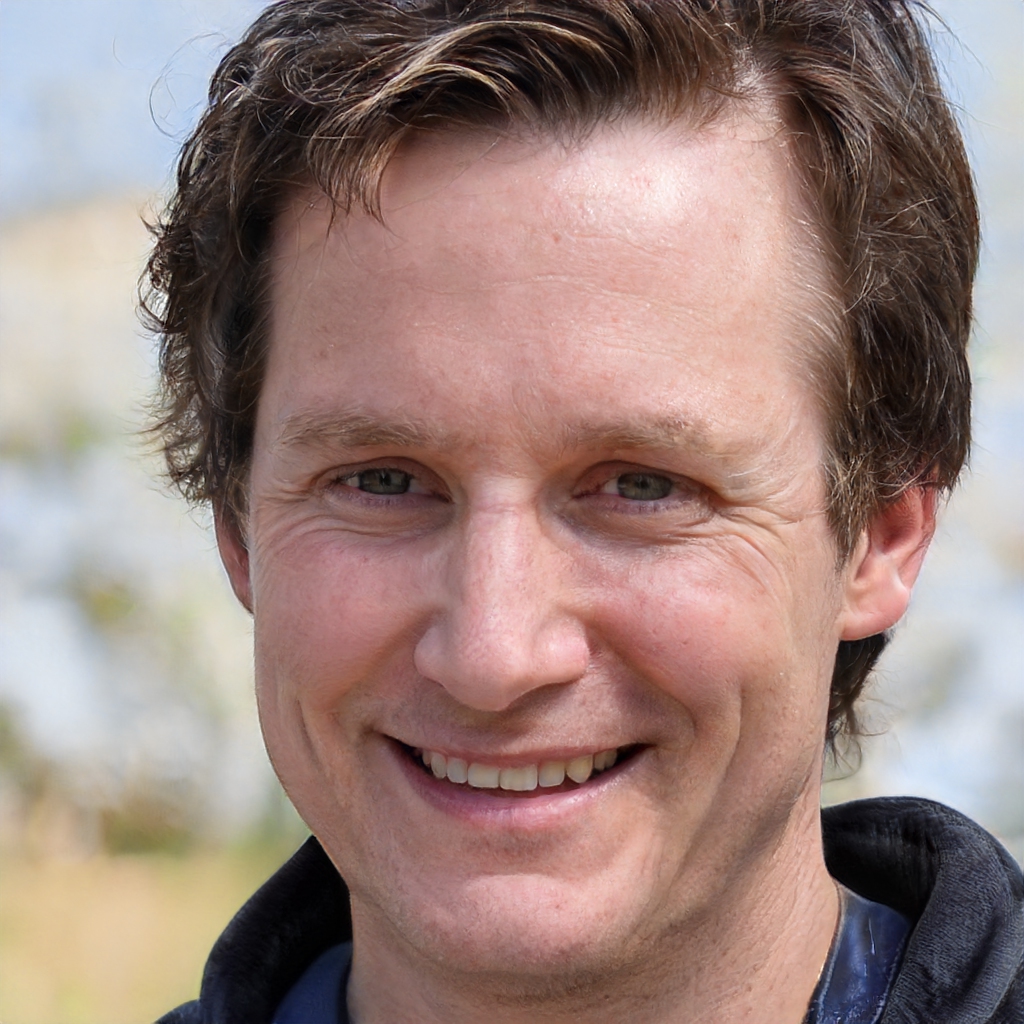 Dr Michael Jones is the proud founder of The Toothbrush Expert. He has been working as a dentist for 21 years now. Besides his work as a dentist, Michael wants to help people to find the right dental products. His goal is to provide everyone with honest expert reviews on all kinds of dental care products.