What a Jacuzzi is to your body is what an ultrasonic dental cleanser is to your denture. This cleanser creates a bubbling sonic solution that cleans off debris, germs, and accumulated microorganism away from your denture.
Thus, it is the most effective way of cleaning your denture and making them safe for use. However, since there are probably hundreds of brands marketing their cleanser to you, we've taken it upon ourselves to bring you the best ultrasonic denture cleaners to choose from.
All medical content on this site, including this guide and other product reviews, is written by our team of experienced writers and researchers. All writers from The Toothbrush Expert are recommended and reviewed in the industry. You support us through our editorially chosen links, which earn us commission. Learn more

All of our picks have the American Dental Association (ADA) Seal of Acceptance.
Quick Overview – Ultrasonic Denture Cleanser
Top 10 Best Ultrasonic Denture Cleaner
There are several ultrasonic denture cleaners available on the market, making it a quite difficult task to identify the best. With the best advice from top experts and dentists, we were able to make the perfect selection. After testing a number of denture cleaners, we identified the top 10 products on the market and we will review them below:

1 – iSonic F3900 Ultrasonic

(Best Pick 🥇)
It is rare to get an ultrasonic denture cleaner that cleans your denture thoroughly almost the same way a professional dentist would, and the iSonic F3900 ultrasonic seems to be delivering impressive results. The iSonic operates on 42,000 Hz high frequency to provide impressive bubbles that clean off all microscopic dirt on your denture.
It is a 20-watt powered portable denture cleaner with five minutes maximum continuous cycle that automatically goes off to eliminate overheating. The iSonic comes with both a plugin and battery feature, which makes it even more portable.
Key Features
110V, 20W AC Power
Portable one pair denture capacity
It comes with cleaning powder
One button control with five minute preset time
Pros
Compact design suitable for tabletop use
Delivers professional denture cleaning
Tough on stains
Compatible with battery and plugin use
Cons
It does not come with a removable basket.
2 – Smile Direct Club smile spa, Ultrasonic and UV Cleaning Machine

(Premium Pick 🥈)
For a healthy denture set, this recommended ultrasonic cleaner combined the efficiency of the ultrasonic cleaning system and UV cleaning to ensure your denture is thoroughly cleaned. This is your complete dental appliance cleaner and your passport to maintaining proper hygiene with your dental items.
Thus, you get to clean not only dentures but also bruxism appliances, toothbrush heads, braces, and many in the steel tank that comes with this product. It is compact enough for tabletops and yet spacious enough for multiple items at a time. Also, it is very lightweight and comes with an auto shut feature that cools the cleaner after every five minutes of rigorous washing.
Key Features
UV light cleaning
Stainless steel tank construction
Cleaning solutions and tablets compatible
LED light display
Spacious tank
Pros
Highly functional dental cleaning machine
Multipurpose feature with the large cleaning tank
Double penetrating UV light feature
Compact size
Cons
The vibration buzz is quite loud
3 – Magnasonic Professional Ultrasonic Denture Cleaner
This Ultrasonic cleaner is more versatile than most regular products. It comes with a digital timer and is designed with five preset ranges and a timer for efficiently precise cleaning. These preset ranges from ninety seconds to eight minutes of powerful but gentle denture cleaning. Interestingly, it is multipurpose can be used for other items like jewelry, sunglasses, etc.
It comes with a large tank with a 600ML capacity, and within it, it generates 42,000hz sound frequency to produce enough vibration for deep cleaning. The digital display helps you keep track of necessary cleaning information. Thus, this is relatively easy to operate for a novice as it comes with an automatic switch-off feature.
Key Features
Large tank capacity
Stainless steel construction
Five preset options
Removable basket feature
120V, 35Watt AC output
Pros
It comes with a multipurpose feature that makes it suitable for dentures and other items.
It has a spacious tank of 600ML
Suitable for professionals
Has removable tanks and basket
It comes with a digital display
Cons
4 – iSonic D3800a Ultrasonic Cleaner, Easy to clean your Dentures
Here is a wholesome ultrasonic cleaner that provides you with all the essential items you need to get your denture flawlessly cleaned. Even professionals will rely on a product like this if the denture does not require any technical cleaning required. This cleaner machine is a multipurpose and yet portable cleaner that delivers ultrasonic cleaning solutions to dentures, jewelry, and other items.
It comes with five preset functions ranging from ninety seconds to eight minutes and delivering powerful bubble brushing on your denture. Furthermore, it comes with an inner stainless steel tank with a removable basket and a watch stand. Also, it comes with its cleaning solution, which you can use with the powerful 42,000hz frequency to achieve a sparkling and germs-free denture.
Key Features
42,00hz High-frequency feature
Removable basket and watch stand
Spacious 0.6L stainless steel
110V, 35Watt AC output
Pros
Spacious tanks for your accessories and denture cleaning
It comes with five preset options
The basket and stand are removable
It comes with a digital timer
Cons
It doesn't come with auto shut as the preset time has to run out before it goes off automatically.
5 – iSonic DS180 Portable Denture Cleaner
iSonic is a brand to trust for quality denture cleaning machines. Here is something for anyone who wants a portable denture cleaner they can get to use on the go. It is not just portable, but it comes with key features to sustain that portability. Thus, you have a cleaner with a 200ML stainless steel tank with a touch sensing control which delivers a powerful ultrasonic deep cleansing on your denture.
Also, it comes with a rechargeable battery feature and a detachable charging cord for flexible use. Furthermore, it comes with a three-minute auto shut feature and a strainer to help you clean your dentures or jewelry. This cleaner features a full-wave cleaning technology with 100V and 20Watt output power.
Key Features
Touch sensing control
Rechargeable battery
Auto shut function
Plastic strainer with small stainless steel tank
Full-wave ultrasonic cleaning technology
Pros
Portable cleaning machine for everyday use
Fully automated support features
It comes with a cleaning tablet and cleaning powder
Cleans tough stains
Cons
Tank is quite small to clean denture pairs at once
6 – Branson Model B200 Ultrasonic Denture Cleaner
Get your denture microscopically cleaned using this amazing ultrasonic cleaner. It is easily one of the best ultrasonic dental cleaners you can get because of its powerful high-frequency cleaning. This cleaner uses 55KHz ultrasonic sound energy to give your denture a deep clean in its stainless steel tank that contains almost 450ML of fluid.
It is relatively compact for anyone desirous of a portable Ultrasonic, and at the same time, spacious enough for multipurpose uses. Talking about multipurpose features, this cleaner will clean your denture and other tiny accessories effectively. Also, it comes with a pre-installed five minutes auto shut feature.
Key Features
55KHz Ultrasonic sound energy
110V, 30Watt output
Five-minute auto shut timer
Compact design
Pros
Effective multipurpose cleaning machine
It comes in a compact design
Suitable for anyone with a slim budget
Cons
It produces a quite noisy sound
7 – BlumWay Profession Denture Cleaner Machine
This cleaner is very easy to use and suitable for older people who require basic and effective dentures. It can also be used to clean other items, such as retainers and aligners. The denture cleaner works with a 40KHz high-frequency sound wave to create powerful bubbles that eliminate all microscopic and visible stains and dirt from your denture. It can impressively remove any food stain from your denture and smudges too.
The stainless steel tank embraces a 360-degree penetrating vibration that cleans the nooks and crannies of your denture or other items inserted in it. Furthermore, the tank is resistant to heat and corrosion. The entire cleaner is durably constructed. Also, it features an automatic five minutes deep cleaning mechanism which you can operate with its one-key feature.
Key Features
One-key function
360-degree full-wave cleaning technology
Five minutes automatic deep cleaning feature
Compact and lightweight construction
Full plugin feature
Pros
It comes with powerful ultrasonic deep cleaning technology that is tough on all stains.
Very compact design and light in weight
It comes with a food-grade stainless steel tank that is corrosion-resistant.
Very easy to use
Con
It tends to overheat when left plugged in
8 – InvisiClean Ultrasonic Denture Cleaner
When you have a stainless steel cup, in your ultrasonic cleaner, with a capacity of 800ML, then you know you are set to get so many things hygienically and adequately cleaned. This tank is split in two to give you a dual transducer tank for doubling cleaning power. Thus, you have just enough space to clean multiple things all at once deeply.
Although it doesn't come with an auto shut feature, it can operate for up to thirty minutes per continuous cycle before you are required to switch it off. You also get to enjoy a quiet high-frequency sound vibration and a removable cord for flexible use. The buttons come protected and will not get soaked with moisture or stop working due to constant use. Overall, this cleaner is very easy to use.
Key Features
Dual transducers
800ML stainless steel tank
Removable plugin cord
110V, 35Watt AC Output
Pros
It comes with a heating element, and you wouldn't need to boil some water first.
Large tank for multipurpose use
It comes with a clear lid to see cleaning action
Works quietly and very easy to use
Con
It doesn't come with a removable basket
9 – UKOKE Portable Household and Denture Ultrasonic Cleaning Machine
This beautifully crafted cleaning machine gets your denture cleaned like it has undergone professional treatment. It uses the impressive 42,000 kHz ultrasonic sound waves to deliver a deep microscopic cleaning for a hygienic denture. Also, this design boasts of a 600ML stainless steel tank which can get multiple pairs of dentures or other items cleaned at once. Thus, it becomes your one super machine for cleaning dental objects.
It is fully digitalized and automated to have a touch sensing control which is better and more durable than buttons. Also, it comes with five preset features, which ranged from ninety seconds to eight minutes. It also features an auto shut that keeps the internal component well-regulated to prevent overheating.
Key Features
600ML stainless steel tank
Five preset feature
110V, 35Watts AC Output
Removable baskets
Pros
It is a versatile ultrasonic cleaner that can be used with other objects
The size is compact, and it works pretty quietly
It comes with removable plastic baskets, and it is very easy to use
It comes with touch sensing control and auto shut feature
Cons
The external body could get a bit hot while in use.
10 – Efferdent Denture Cleanser Tablets
Alternatively, instead of submerging your denture in an ultrasonic denture cleaner, you can as well dissolve effervescent tablets in a very warm water solution and soak your denture inside the solution. The Efferdent Denture cleanser tablet seems to be one of the best alternative options to ultrasonic cleaner. Interestingly, it works like an ultrasonic cleaner. Just like an ultrasonic cleaner, this tablet is safe for use on other items such as a retainer and other dental appliances.
It creates the same microscopic bubbles that fight off stains and dirt from your denture to keep it clean and odorless. Just submerge in the effervescent solution for five minutes and rinse after. Use every day, and your denture will remain as sparkling clean as you want it. Furthermore, it is antibacterial and can also be used as a cleaning solution in an ultrasonic dental cleaner.
Key Features
It contains 126 tablets in a pack.
Antibacterial and approved by the American Dental Association
Powerful oxi-action feature
Instant action
Pros
Safe for use on all dental appliances and in an ultrasonic denture cleaner
It is economical
Great for removing odors and tough stains on the denture
It has antibacterial properties
Cons
Brushing the denture may be required for buildup plaque or tartars.
Buying the Right Ultrasonic Dental Cleanser: Factors to Consider
If your denture does not require critical professional cleaning, then above is a list of ten amazing products to choose to clean your denture. However, we understand if you don't mind searching for something outside our list. Thus, in helping you understand what to look for when choosing the best ultrasonic dental cleanser, we've highlighted some of the factors and features that guided us in making our top ten list. These features include: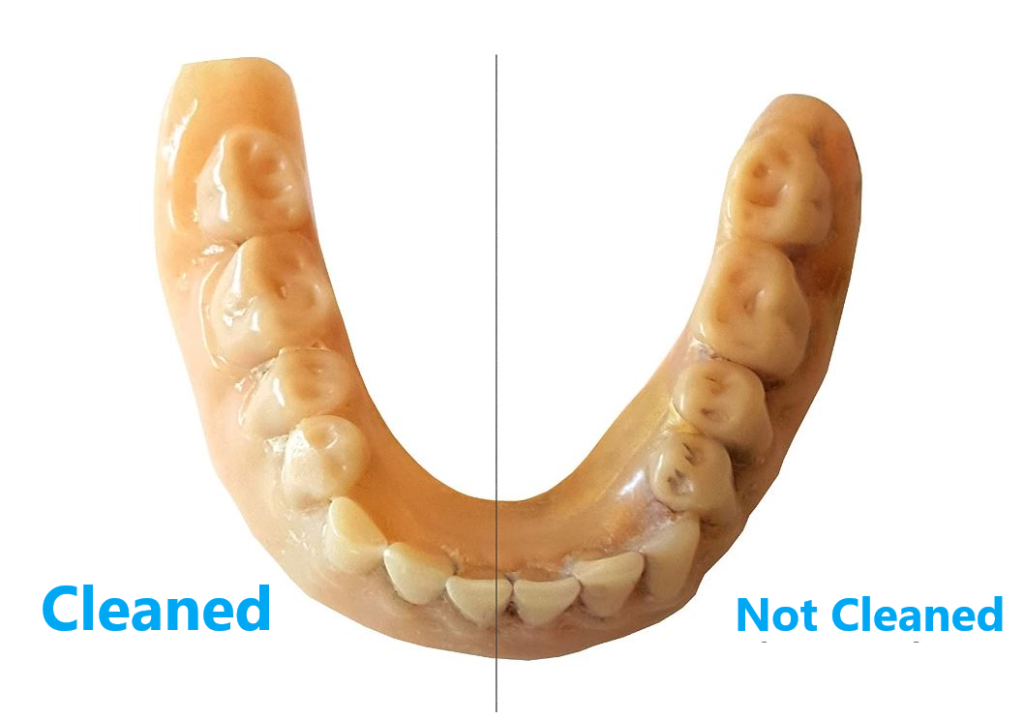 Moisture Control
Ultrasonic denture cleaner may come with a built-in tank or removable tank. Whichever is the case, you need to ensure the cleaner has a mechanism that allows you to expel moisture out of it. This is necessary because when you do not expel moisture or water out of the tank and find a way to reach the inner components, it may result in corrosion. This will damage your cleaner.
Although a detachable tank works more efficiently in keeping the cleaner dry and safe, it doesn't mean built-in tanks are not entirely good. All that is important is to avoid the moisture buildup and keep the tank dry at all times. Also, ensure the buttons are moisture-proof or buy a much reliable cleaner with touch sensing control.
Durability and Weight
For impressive durability, it is essential to go for an ultrasonic denture cleaner that is made from quality ABS plastic or insulated stainless steel. This ensures that the cleaner stands the test of time. Although products made from quality materials often don't come cheap, they are always worth the money in the long run.
Also, it doesn't have to be heavy before you perceive it as being a quality item. You should be able to carry your ultrasonic cleaner about. It should be that portable. Thus, you should be looking at buying anything between one pound to three-pound in weight.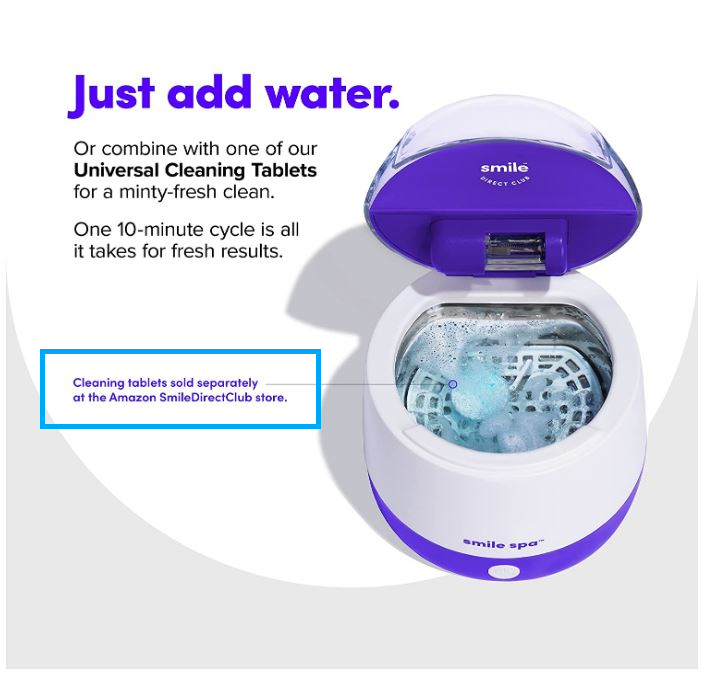 Noise of the Denture Cleaner
It is not uncommon to find cheap quality denture cleaners making so much noise while in use. Quality dental cleaner produces a slight buzzing sound, and some are completely silent. A noisy dental cleanser does not necessarily mean it is bad, but it demands your budget and the level of noise you can cope with.
Mechanical Control
Some ultrasonic cleaning machines come with different preset control to give you what you want. There are some products with a single preset that produces impressive results. However, there are others with multipurpose features that can be used to clean other stuff.
These come with more than one present. Therefore, the purpose you want to achieve will help you determine whether you want a preset control cleaner for just your denture, or you wouldn't mind having preset options that can help you clean other stuff too. However, if you prefer, multiple presets, go for one with the range of ninety seconds to thirty minutes.
Size and Wattage
Do you own the regular size denture, or do you have two or more dentures you would want to clean at once? These factors will help you determine whether you should buy a small cleaner machine or a larger one. Any cleaner with a cup that is above five pints is no longer small. The largest portable ultrasonic could hold multiple dentures and other stuff all at the same time.
The number of tanks will determine the wattage you should go for in a denture cleaner. For instance, a one-pint tank would do well if it comes with a wattage ranging from thirty to sixty.
Frequently Asked Questions on Ultrasonic Denture Cleaners
Are ultrasonic cleaners safe for dentures?
They are entirely safe for dentures, and Aside from professional cleaning, they are the most effective way of cleaning dentures and keeping them healthy for everyday use. Although they are electronic appliances capable of generating heat, observing the maximum timeframe for continuous use will prevent the inner component from overheating or causing any harm. Each product often comes with instructions on continuous cycles and the maximum time limit allowed for each.
Are ultrasonic denture cleaners any good?
Compared to other forms of cleaning, an ultrasonic denture cleaner will clean better and remove harmful bacteria in minutes. The same process may take longer when considering other options like soaking your denture in a tablet solution. Ultrasonic cleaners use high-frequency sound and high-pressure water flow to get rid of dirt and harmful bacteria.
What machine do dentists use to clean dentures?
If there is a buildup of tartar on the denture and it seems your regular ultrasonic denture isn't doing a great job, then you could visit your dentist. Dentists have their professional ultrasonic cleaner to remove tartars and debris buildup on your denture painlessly.

At other times, your denture may only require submerging for a decent number of minutes in a good cleaning solution. This can be made from effervescent tablets, cleaning powder, or ready-made denture cleaning solution. With a good brush down after submerging in the solution, your denture could come out sparkling clean.
Can you use Dawn dish soap to clean dentures?
Although the power of an ultrasonic denture cleaner is powerful enough to clean your denture, it is important to add a cleaning agent. However, this doesn't mean you could add just any cleaning agent.

Some denture cleaner comes with a recommended cleaning solution, but if yours doesn't, add few drops in the tank and let the cleaner do the rest. Although you can use a mild dishwasher, this will only eliminate the dirt and particles and may not get rid of the microscopic debris.
How does an ultrasonic cleaner remove plaque?
The ultrasonic cleaner uses a vibrating diaphragm, which creates microscopic bubbles when it vibrates quickly. The bubble comes from the water or cleaning agent contained in the tank, and it is these bubbles that scrub off unwanted germs and debris out of the nooks and crannies of the denture. Unlike the sonic cleaner that uses cavitation, the ultrasonic denture cleaners only need fluid to render effective cleaning.
Conclusion
In striving to ensure you have a healthy denture, one of the best dental appliances to help you achieve this is the ultrasonic dental cleanser. It keeps your gum out of trouble and ensures you maintain perfect oral hygiene by cleaning off tartars and food buildups on your denture.
However, you need only the best ultrasonic denture cleaner to do this job, and we have reviewed ten amazing options to choose from. Ultrasonic denture cleaner cannot replace the work of a professional dentist should your denture need professional cleaning. Hence, make it a point of duty to visit your dentist at the interval for perfect oral health. Check this out for the best denture adhesive.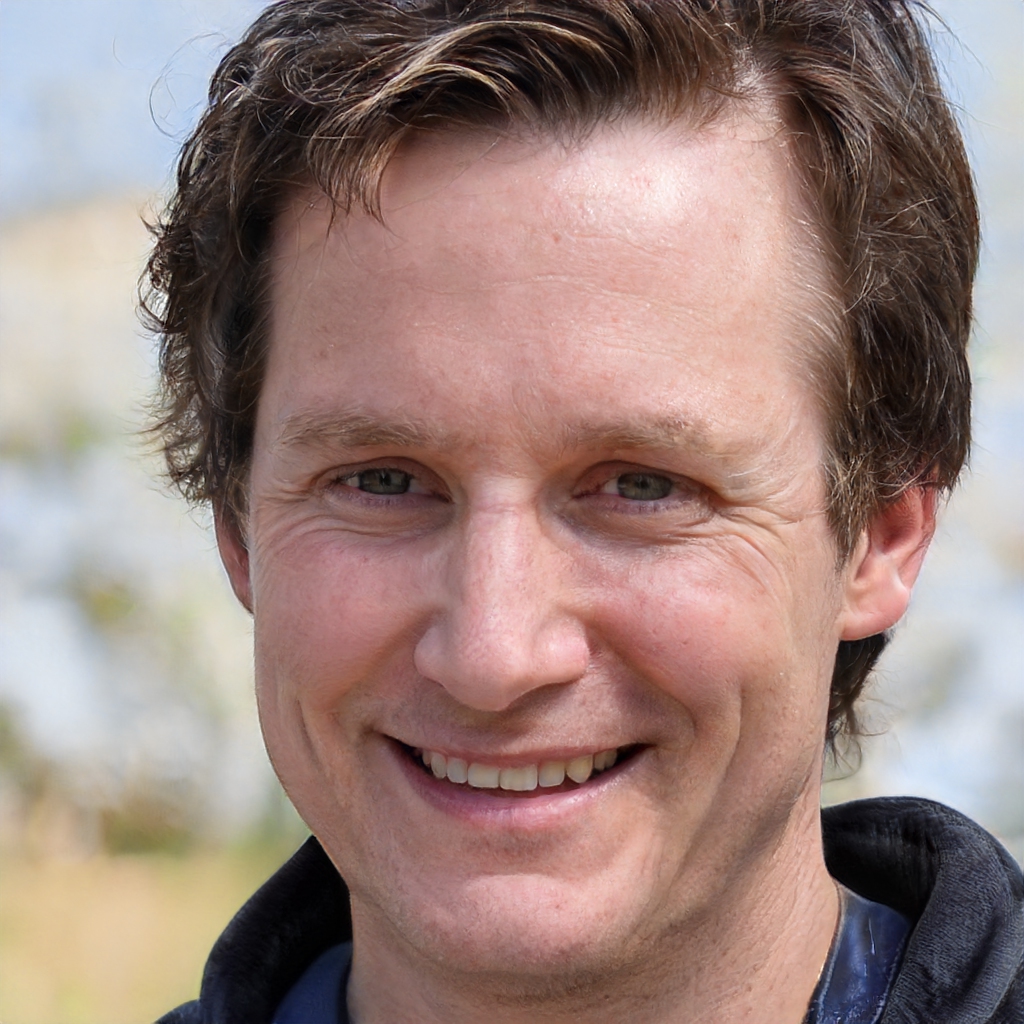 Dr Michael Jones is the proud founder of The Toothbrush Expert. He has been working as a dentist for 21 years now. Besides his work as a dentist, Michael wants to help people to find the right dental products. His goal is to provide everyone with honest expert reviews on all kinds of dental care products.