If you want to travel and also take good care of your dental health, it does make a lot of sense to use some of the best travel electric toothbrush models out there. Thankfully, there are lots of products on the market, and each one of them delivers outstanding quality and value for money. But then you have to wonder, is it a good idea to invest your hard-earned money into an electric toothbrush pressure sensor unit or do you want something with fewer features and a lower price? That's up to you, but thankfully there are a plethora of products you can find right now, and in this article, we will talk about some of the best out there.
All medical content on this site, including this guide and other product reviews, is written by our team of experienced writers and researchers. All writers from The Toothbrush Expert are recommended and reviewed in the industry. You support us through our editorially chosen links, which earn us commission. Learn more

All of our picks have the American Dental Association (ADA) Seal of Acceptance.
Quick Overview
Just in case you want to skip the long and detailed review of what is the best travel electric toothbrush in each category, here it is:
Top 10 Travel Electric Toothbrush models that you can start using today!
Searching online and looking into every specification, price, warranty, the brand can be callous. Professional travel toothbrushes have assisted us with the list of the most trustworthy travel electric toothbrushes. To make your work easy and straightforward, we have listed the top 10 best travel electric toothbrushes with all the other essential information you need to know.
1 – Philips Sonicare ProtectiveClean 5100 Electric Rechargeable Toothbrush, Best Travel Electric Toothbrush
"The Philips Sonicare ProtectiveClean 5100 is the number one recommended brush by dentists and easy to carry when traveling around," says Dr. Brent Barta, born and raised in Fort Wayne Indiana, graduated cum laude from Indiana University School of Dentistry. What we like about Philips Sonicare ProtectiveClean 5100 is the fact that it has some amazing features like the sonic cleaning technology. It's particularly created with the idea of cleaning your cavities naturally, and it also works great when it comes to improving your gum health naturally. The fact that it comes with its own pressure sensor is very helpful, and this is a great travel electric toothbrush with tons of nifty features. You also know when you have to replace the brush head because they have a dedicated replacement reminder within the product itself.
Using it for travel is a breeze as it has its own dedicated storage tool. That's not all, you can also clean it quickly, which helps save a lot of time and effort. That's professional, convenient and it will also help prevent dental issues. It doesn' have a sensitive brush head, unfortunately.
Brush heads – Phililps
Key Features
Clean, white and gum care modes
Smart Timer
Quad pacer
Pros
3 cleaning modes to choose from
A pressure sensor that prevents excessive brushing
Smart timer and a quad pacer
Dedicated travel pouch
Cons
2 – Oral-B Genius Pro 8000 Rechargeable Battery Electric Toothbrush
"I love the idea of this, not only because Oral-B is traditionally a great manufacturer, but also because it is very easy to replace brush heads," says Rebecca Donaldson, D.M.D.  member of the American Dental Association and the Ohio Dental Association. Right from the start, you will like the unique set of features provided here. Things like an outstanding travel pouch, Bluetooth connectivity and the idea of having 6 cleaning modes push the boundaries here. The multicolor smart ring will help you learn how to improve your brushing experience. It also has a great electric toothbrush pressure sensor it helps you figure out exactly where you need to brush with a bit more power. All these little things do end up making this brushing experience more rewarding, and that's what you want to consider.
The unique pressure sensor allows you to prevent any gum or dental damage, which is a very good option. On top of that, we find out the unit very easy to carry around. It's a bit lighter when compared to others, and the Bluetooth connectivity makes it a more comprehensive and professional product.
Brush heads – Oral-B
Key Features
3 modes to choose from
Very easy to replace any brush head
Battery life lasts for around 2 weeks
Bluetooth connectivity
Smart timer unit
Pros
Smartphone pairing
Customizable smart ring with visual coaching
6 cleaning modes
Cons
Very sensitive, you can break it with ease
3 – Oral-B Pro 7500 SmartSeries Electric Rechargeable Toothbrush, with premium travel case
"This toothbrush by Oral-B Pro 7500 is getting great reviews for its bells and whistles at a very affordable price," says Clint Newman, DDS Dentist and graduate of the University of Tennessee College of Dentistry. The primary focus for the Oral-B Pro 7500 is to help you boost dental health and at the same time, it also has plaque removal features which we like a lot. It also pulsates in order to remove dental plaque, not to mention it has the regular rotation and oscillation brushing movements. The Oral-B Pro 7500 comes with 5 modes that are very different, some are for whitening, others for gum care and so on. The timer they added on the handle is designed to help you know when you need to switch mouth areas. It's a nifty piece of equipment, and we found it to be rather pivotal while using the product.
Moreover, we like the fact that you get your own storage, and there are multiple cleaning heads in the package too. So you do receive plenty of customization options, which is exactly what you want from a product like this. It's a creative and very interesting product, one that does tend to pay off big time for sure.
Brush heads – Oral-B
Key features
A 3D action cleaning solution
Cleaning modes

Pro clean
Whitening
Sensitive
Gum care
Daily clean

In-handle pulsating timer
Premium travel case
Pros
Plaque removal features
5 brushing modes
In-handle timer
Cons
It rusts pretty fast
The motor is quite loud
4 – Philips Sonicare DiamondClean 9300 Series Rechargeable toothbrush, HX9903/32 FFP
When it comes to the Philips Sonicare DiamondClean, you expect great quality, and they do not disappoint. Based on our experience with this travel electric toothbrush we found that the unit is very reliable and durable. There are lots of colors to choose from and multiple styles too. That being said, the pulsating features and plaque removal options are very impressive on this unit and based on our tests, it does remove dental stains. You do need to use it as instructed, around 90-180 seconds depending on the situation and you will have great teeth. Adaptability is key here, so use that to your advantage, and you will be very well in the end.
With the package, you will get 3 smart brush heads, and the unit itself has 4 cleaning modes. Aside from that, you also receive 3 intensity levels. So there's plenty of customizability to go around here, and we found the unit to be very good for what it is. You will need to use it often to see the results, but the fact that you can take it with you during travels thanks to its impressive travel case is yet another reason why you want to test it and see how it goes.
Product review Philips Sonicare DiamondClean
Key features
Pros
Brush head recognition
Premium travel case
Glass Charger
3 intensity levels
Frustration-free packaging
Cons
Some customers experience connectivity issues
5 – White Travel Electric Toothbrush by Gevilan, Waterproof and Portable Lipstick Mini
This product is visually impressive. Right from the start, it has a clean design and a very cool packaging that you will like. It's designed to not waste a lot of space while also being very efficient, which we appreciate a lot. They are offering 18.000 brush strokes per minute, and you can remove plaque or stains pretty fast with this one, which is always a good thing to have. Based on our experience, the product has 2 modes, clean and sensitive, so it can be used by adults and kids alike, which is great.
Plus, one of the major advantages of this travel electric toothbrush is the overall waterproofing and streamlined design. At the same time, we like the price a lot. Granted, it's not the most powerful travel electric toothbrush out there, but it does deliver the value that you need and so much more. If you are passionate about high-quality toothbrushes, you will find out this one is definitely worth the cost. All you need is to give this a shot, and you will be incredibly happy with the results and the payoff as a whole.
Key features
Great for stain and plaque removal
Sensitive and clean mode
FDA Dupont engineered brush head and bristles
Completely waterproof
Very small, easy fits in your hand luggage
Pros
18.000 strokes per minute
2 optional modes
Waterproof
Very affordable
Cons
Will not last for a long time
Vibration is not super strong
6 – Philips Sonicare ProtectiveClean 6100, Travel Electric Toothbrush Navy Blue
There are many things you will like about the Philips Sonicare ProtectiveClean 6100. Right off the bat, the design is spectacular, and everything blends in together very well, including the spectacular travel case. We like the fact that you will have a pressure sensor that protects teeth from extensive brushing, that's always a welcomed sign to have. Aside from that, you get 3 intensity settings and a dedicated brush head replacement reminder too.
When it comes to battery life, you do have an indicator that lets you know when you have to recharge your travel electric toothbrush. Based on our experience, this does last for around 2 weeks, so the battery life as a whole is pretty good for what it is. Furthermore, make sure you buy the right Philips brush heads.
Key features
Whiten your teeth in just a week
3 intensity settings to choose from
Around 62,000 brush movements per minute
Pros
Great pressure sensor
Brush head replacement reminder
Battery charge indicator
Waterproof
Cons
It can break with ease if you're not careful
The battery is not very powerful
7 – Quip Metal Electric Toothbrush – Electric Brush and Travel Cover Mount (Silver Metal)
Right off the bat, the Quip Metal Electric Toothbrush is very impressive from a visual standpoint. This is not an overly complicated travel electric toothbrush and runs on an AAA battery. It's designed to be simple, low-profile and it succeeds in this regard. The overall value for it is downright amazing, and the fact that you have quadrant pulses and a dedicated timer really pushes this to your advantage. It will take a bit of getting used to it if you are a user of those larger travel brushes. But if you get past that feeling you will be absolutely fine. It delivers all the quality and value you want, and the payoff alone can be second to none every time if you do this right.
The fact that you have waterproofing, shower safety, built-in timers, and a great travel cover pushes the boundaries in no time. This travel electric toothbrush is durable, and while it's not the largest one out there, its low profile is a great advantage if you want to use this right away and without issues all the time.
Key features
Very powerful vibration
You can use the travel cover as a mirror mount or stand
Safe to use in the shower
Quadrant pulses
AAA battery (included)
Very small, easy fits in your hand luggage
Pros
Sonic vibration system
AAA batteries included
Built-in timer
Lightweight and suitable for travels
Great design
Cons
8 – Oral-B 7000 SmartSeries with 3 Replacement Brush Heads, Travel Case
People looking for a great travel electric toothbrush will find the Oral-B 7000 a very good unit. In fact, this one has real-time feedback that allows you to track habits over time; it also senses when you brush too hard, and it even has battery indicators. The brushing heads you get with it are very comprehensive and nice in use. We particularly like the fact that you get 3D cleaning, so it will pulsate, rotate, and oscillate as it goes along, depending on the situation.
The travel electric toothbrush will bring around 800 brushing movements per second and the great thing here you also get to use 6 different brushing programs. That means it's going to offer all those benefits and features you want in a very comprehensive package. And that's what helps push things to the next level here. The storage pouch is also quite impressive, the same color as the unit, and it adds up to create a very complex and visually distinctive package.
Key features
Comprehensive cleaning process
Made out of silicon and other high tech materials
3D cleaning system
Clinically proven
Pros
3D cleaning
6 cleaning modes
Personalize your brushing
4.4 out of 5 stars (customer review)
Cons
Some users complain that it has a cheap feel
9 – Philips Sonicare One with Sleek Travel Case, Waterproof Yellow
A Philips Sonicare One toothbrush is very nice. It looks great, and its dedicated case is visually impressive too. This is not a very expensive product, but it does include some of the expensive features that you can find on some other models like this. The 2-minute timer lets you know exactly when you need to finish brushing. (More info about electric toothbrushes with a timer?) We also like the fact that they added 1 easy brushing mode and one brushing head, as this offers a rather good feeling. They do offer a pretty stunning customer experience, which is exactly what you need here.
Brush heads match colorful handle for super sleek look. Designed with you in mind, Philips One is a big step up from your manual toothbrush. Choose for Philips One. The product is available in 7 different colors, here are the 5 most popular ones:
Key features
The white model, is included USB charger
Works with AAA batteries
3 months battery life
Very small, easy fits in your hand luggage
Pros
Very good cleaning
1 cleaning program
Different color travel cases
Cons
10 – Fairywill Electric Toothbrush with Smart Timer, Black Travel Toothbrush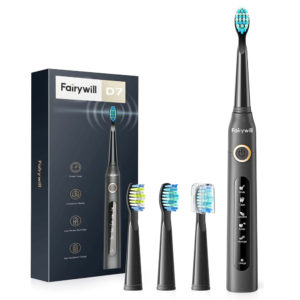 Fairywill did a great job with this model, especially considering the low price they are asking for this. The product has a smart timer that allows you to time everything adequately to avoid overbrushing and dental damage. The design is also very friendly, and they do include multiple brushing heads too. The travel electric toothbrush design is very impressive here, and the fact that you can reuse it without issues
There are some other things you will like. This one includes 5 brushing modes, tooth waved bristles, and the design itself. Of course, this is not as durable when compared to the more expensive models. And even the way you carry it is a bit rudimentary since you have to keep its packaging, there's no dedicated case. But it's still designed to be an amazing travel toothbrush (USB charger) and the fact that you can reuse it without a problem with 1-2 charges per month means you can take care of your teeth without having to worry about issues.
Key features
5 optional modes to choose from
It charges in just 4 hours and you use it for a month
Tooth waved bristles that are very accurate
Pros
Long battery life
5 cleaning modes to choose
USB port charger
Cheap
Cons
Travel packaging could be better
Quite small
Frequently Asked Questions
Can I travel with an electric toothbrush?
There are electric toothbrushes that are specially made for traveling. On most airlines, it is allowed to bring an electric toothbrush. To be absolutely sure we recommend that you check with the airline you are flying with if it is allowed to bring an electric toothbrush on your flight. For most airlines, it is allowed and it is recommended that you put your electric toothbrush in your carry-on bag. Make sure you check your toothpaste volume the TSA limited it to 3.4 ounces.
Are electric toothbrushes dual voltage?
Most Oral-B electric toothbrushes are not dual-voltage. All Oral-B Vitality and Oral-B Pro electric toothbrushes are not dual-voltage. Therefore, they only can be used with the voltage they are made for. If you want to know exactly where you can use which toothbrush, you can check the website of Oral-B. They have a clear description of where you can use their toothbrushes and chargers.
Can I fly with a electric toothbrush?
You can bring your electric toothbrush on a plane in your carry-on bag. It is not something the TSA worries about. The TSA is more worried about toothpastes than your electric toothbrush which should be limited to 3.4 ounces. So, please make sure you bring small tubes of toothpaste when you travel. In fact, the best place to pack electric toothbrushes is in carry-on bags.
Conclusion
If you want a great travel electric toothbrush with great features and an affordable price, we recommend you to check the list. You will find some amazing products that push the boundaries when it comes to value for money. It's a very good idea to study all the features and make sure that everything works the way you want. Only at that point will you be able to obtain that much-wanted value for money. Thankfully, all these products are widely used by thousands of customers all over the globe, so you just need to find the right one that covers all your requirements! Have a look and find your Electric toothbrush to travel around the world.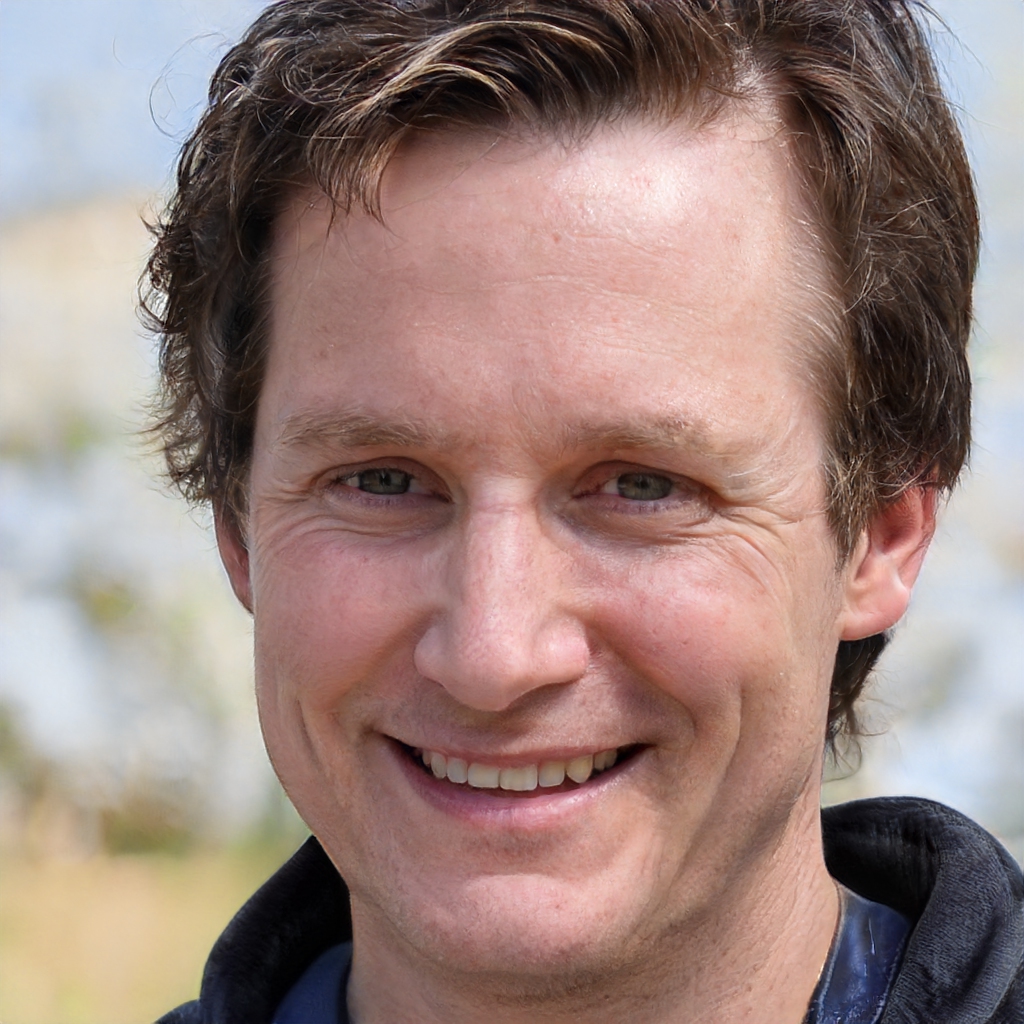 Dr Michael Jones is the proud founder of The Toothbrush Expert. He has been working as a dentist for 21 years now. Besides his work as a dentist, Michael wants to help people to find the right dental products. His goal is to provide everyone with honest expert reviews on all kinds of dental care products.