Finding the best bamboo toothbrush can be tough and confusing. There are several types and brands to choose from and you want to get the perfect one for your pearly whites. In order to facilitate you, we have come up with a comprehensive list of the top 10 bamboo toothbrushes. This will ensure perfect dental health and hygiene while giving a perfect replacement for a plastic toothbrush.
Maintaining oral hygiene and keeping your teeth clean is definitely important, but plastic toothbrushes can cause a lot of waste. According to National Geographic, the amount of plastic produced per year is more than 448 million tons, creating an environmental hazard. It has also been reported that there is an accumulation of more than four billion plastic toothbrushes in oceans and landfills annually.
The growth of bamboo plant is more rapid and does not require fertilizers and pesticides. When given the right conditions, the growth of bamboo is about four feet per day. As compared to other plants, bamboo adds 30% more oxygen into the atmosphere and absorbs more carbon dioxide. Bamboo is a biodegradable material. It decomposes in a maximum of four months.
People are gradually moving towards a zero-waste lifestyle as our planet needs to be more eco friendly. Bamboo toothbrushes are becoming common not just because of their natural antimicrobial properties but also because they are biodegradable and eco-friendly. Every plastic toothbrush you buy will take up to 1000 years to decompose, while it takes bamboo one as much time as a fallen branch to decompose completely. It is important to understand Which Bamboo toothbrush to buy before you can make any decision on the best product to buy.
All medical content on this site, including this guide and other product reviews, is written by our team of experienced writers and researchers. All writers from The Toothbrush Expert are recommended and reviewed in the industry. You support us through our editorially chosen links, which earn us commission. Learn more

All of our picks have the American Dental Association (ADA) Seal of Acceptance.
Quick Overview – Bamboo toothbrushes(comparison)
Top 10 Best Bamboo Toothbrush of 2022
Most bamboo toothbrushes come with nylon bristles that feel nice against the teeth and gums. These bamboo brushes can easily sweep away plaque and bacteria around the teeth. Some bamboo toothbrushes have bristles that are infused with activated charcoal which promotes whitening of teeth and is also antibacterial. Charcoal also has teeth-whitening characteristics that absorb the majority of what stains your teeth from drinking red wine, coffee or tea.
More and more people are switching to bamboo toothbrushes but, it gets tricky finding a good option since there are so many to choose from. To help you choose the best bamboo toothbrush for you, here are ten best bamboo toothbrushes out there. Buying a natural bamboo toothbrush can give your mouth a fresh and clean feeling, all while being sleek and cute with eco-friendly handles and soft, natural bristles and also helping to reduce the size of our landfills.
1 – Brush with Bamboo, Plant-based Bamboo Toothbrush Adult Size, Best bamboo toothbrush
Brush with Bamboo is a plant-based bamboo toothbrush for adults. Pack includes 4 organic adult-sized bamboo toothbrushes. Every part of this product is plant based including bristles, handle, wrapper, and box. They offer free shipping to the US but will ship to any other country.
This bamboo toothbrush has a biodegradable bamboo handle made from certified 100% organic bamboo. This bamboo handle has high quality with an easy-to-grip curved handle.
Soft bristles are made in USA from a base of 62% castor bean oil. This is the latest and most advanced biobased bristle in the world today. It's bio-based, but not biodegradable. The plant-based bristles are soft and gentle on gums while removing the food debris from teeth.
The plant based packaging is also eco-friendly and recyclable. The wrapper around the toothbrush is plant-based and commercially compostable. The outer box, encasing the toothbrush, is also biodegradable and made from 100% recycled paper. No tape or glue is used in this outer box. Your bamboo toothbrushes can be used for just as long as plastic toothbrushes. These toothbrushes are the USA certified, Green America certified, BPA free, Vegan and nontoxic.
Brush with Bamboo toothbrushes will definitely create the perfect smile you ever dreamed of!
Key features
4 plant-based bamboo toothbrushes
Organic bamboo handle
Soft plant-based bristles made from a vegetable oil base (USA made)
Plant-based recyclable packaging
Highly durable
USA certified, Green America certified
Non-toxic
BPA free
Pros
All-natural
Highly recommended and featured all over
Soft plant-based bristles are gentle
Lasts as long as a plastic toothbrush
Adult and kids sizes available
Cons
Bristles might start to fall out in some time
Not for people with gum sensitivity as bristles can be hard on gums
Bristles are bio-based but not biodegradable
2 – bmbu Bamboo Toothbrush, 4 Pack
Bmbu Bamboo Toothbrush Pack is one of the most popular bamboo toothbrush sets available and will surely impress you. When you pick up one of our bamboo toothbrushes, it feels like no other toothbrush you have ever used. These bamboo toothbrushes provide dental hygiene to a whole new level.
The charcoal infused bristles are of medium to soft hardness. They are perfect for gum health and help in breaking up plaque and tartar. Use this bamboo toothbrush for a white and glowing smile.
Bmbu Bamboo Toothbrush is designed in a sleek, simple, and sustainable design. Every time you use a bamboo toothbrush you get a feeling of satisfaction knowing you aren't using a plastic toothbrush which may end up in the oceans.
bmbu Bamboo Toothbrushes come in simple, 100 percent biodegradable bamboo handle packaging material. Bamboo brush handles are designed to fit the hand well and allow for great brushing of your whole set of teeth. To prolong the life of your brush, dry the brush after each use and store in a cup or holder that is free of excess moisture.
Key features
Pack of 4 toothbrushes
Made with sustainable bamboo
Gentle, bamboo charcoal infused bristles
Biodegradable packaging
Minimalist design
Individually packaged brushes, held in a larger multipack box
Ergonomic handle, gentle deep cleaning bristle shape, aesthetic design bamboo wood look
Non-toxic and BPA free
Pros
Aesthetically designed bamboo wood look
One pack can last for one individual for a whole year
Container made out of recycled materials
Perfect gift idea for friends, family – and even better vegan gift
Cons
Brush head may irritate mouth with width and bamboo design
3 – GoWoo 100% Natural Bamboo Toothbrush Soft (PACK OF 4, Adult, Rainbow)
GoWoo set of bamboo toothbrushes are the perfect choice for any family looking to live greener. They are biodegradable and are more fun and convenient to use than their competitors. These specially designed biodegradable toothbrushes are designed to give you a 100%-natural way to keep your teeth bright and white. GoWoo brushes are organic, biodegradable and eco friendly with soft nylon bristles.
GoWoo bamboo toothbrushes use BPA free nylon bristles that are super soft. These bristles are 62 percent castor oil and 38 percent nylon. They get in between teeth and gently clean the gums. The nylon bristles, made from synthetic nylon 4, are resistant to microbial growth to ensure durability and safety. The bristles are dyed by food coloring acid dye which is non-caustic and safe for the body. GoWoo Natural Bamboo Toothbrush removes all bacteria and food debris to give you the smile you always wanted. This bamboo brush polishes your teeth, strengthens your enamel, and makes your breath minty fresh. They are perfect for people with sensitive gums.
Key features
Super soft nylon bristles
Bristles made from nylon 4
Durable and long-lasting
Biodegradable and compostable
BPA free and eco friendly
Water-resistant
Pros
The toothbrush polishes your teeth, strengthens your enamel, and makes your breath minty fresh
Perfect for sensitive gums
Convenient to use
Resistant to microbial growth during normal use
Cons
Bristles are not biodegradable
Super soft bristles do not last as long as hard bristles from other brands
4 – GoWoo 100% Natural Bamboo Toothbrush Soft, best bamboo toothbrush for kids
GoWoo Natural Bamboo Toothbrush is biodegradable and is perfect for little mouths of all shapes and sizes. They have positive effects on the environment in a lot of ways as compared to your traditional toothbrush. These natural bamboo toothbrushes are even way more convenient to use!
GoWoo bamboo toothbrushes use BPA free nylon bristles. These bristles are soft and contain 62 percent castor oil and 38 percent nylon. They get in between teeth and gently clean the gums. The nylon bristles, made from synthetic nylon 4, are resistant to microbial growth to ensure durability and safety. The bristles are dyed by food coloring acid dye which is non-caustic and safe for the body. GoWoo Natural Bamboo Toothbrush removes all bacteria and food debris to give you the smile you always wanted. This brush polishes your teeth, strengthens your enamel, and makes your breath minty fresh. They are perfect for people with sensitive gums.
Premium quality and sustainable Bamboo Wood are used to make GoWoo bamboo toothbrush which is way stronger than normal wood. It does not blister or start chipping, so you don't need to worry about negative consequences. These GoWoo Natural Bamboo toothbrushes are water-resistant too. Your kid will not have to dry the handle after use as well as ensuring long-term use.
It is ideal for kids and comes in a pack of 4 appealing rainbow color brushes. This kid's toothbrush is 100% Bamboo for fresher breath and a brighter smile. With super-soft nylon bristles, these toothbrushes clean your kids' teeth gently and comfortably to give them an enjoyable tooth brushing experience. If you want to go for an electric toothbrush for your kid see another review post.
Key features
Pack of 4 natural bamboo toothbrushes
Super soft nylon bristles
Plant-based bristles
Durable and long-lasting
BPA free and eco friendly
Biodegradable handle
Compostable packaging
Water-resistant
Pros
Kid-friendly with a shorter handle
Perfect for sensitive gums
Convenient to use
Resistant to microbial growth during normal use
Cons
Bristles are not biodegradable
5 – Wowe Lifestyle Natural Organic Bamboo Toothbrush Eco-Friendly Wood
Wowe Lifestyle Natural Organic Bamboo Toothbrush is a great choice for environmentally and hygiene conscious people. These toothbrushes are a great way to help keep the earth green. Bamboo naturally resists water and is antimicrobial making it difficult for microorganisms to stay on the bamboo toothbrush.
It includes a pack of 4 toothbrushes and will last one person a full year. Its ergonomic design makes it comfortable to use and an eco-friendly package that is plastic-free. The soft and natural bamboo handle is waterproof and will never separate, so the toothbrush does not need more care than the standard plastic version.
Wowe Natural Organic Bamboo Toothbrush has soft, optimum bristles and is BPA free. They are made from recyclable nylon and are perfect for all ages' teeth and gums. Your bamboo toothbrushes can be used for just as long as plastic toothbrushes.
Wowe elevates conscious product choices with its Earth sustaining packaging and overall ecology-minded appeal. Each brush set is delivered in a 100% plastic free package. Zero waste means improvising and staying away from toxic plastics. Instead, their packaging is made of a mix of recycled paper and cardboard material.
Each individual toothbrush is labelled with numbers 1 through 4 to help distinguish everyone's designated toothbrush.
Key features
Pack of 4 toothbrushes
BPA free bristles
Bristles made from nylon 6
100% plastic-free zero-waste packaging
Ergonomic biodegradable handle
Bamboo naturally kills bacteria
Smooth and natural bamboo handle
Pros
Individually numbered so you will not mix them up
Supports planting trees and sustainable living
Cons
Bristles are not biodegradable
6 – KoolerThings – Biodegradable Natural Charcoal Bamboo Toothbrushes
KoolerThings' affordable bamboo toothbrushes add a layer of activated charcoal to the bristles for an extra sense of clean. These biodegradable and natural bamboo toothbrushes come in a pack of 8 with two individual boxes of 4 nicely packed toothbrushes. Getting 8 Toothbrushes at a great value can get you a long way, and last at least a year.
Our bristles are made from Soft, BPA Free Nylon Bristles which does a great job to remove tartar, and plaque to keep your teeth clean at all times. Your teeth will always remain healthy! The charcoal infused bristles clean the sensitive gum walls, remove plaques, bad breaths and really keep that smile going. This natural bamboo toothbrush is environmentally safe, eco-friendly and acts on the philosophy of Go Green.
KoolerThings toothbrush handles are made from Natural, 100% Biodegradable Bamboo. The curve shape of the bamboo handle fits great in your hand. The bamboo handle is very smooth and has no splinters. The bamboo handles are numbered individually so that you will never mix them up.
Key features
Two packs of 4 bamboo toothbrushes
Eco-friendly toothbrushes
Natural teeth whitening
Soft nylon bristles
Get 8 numbered toothbrush
Durable and water-resistant
Splinter free with smooth edges
BPA free
Biodegradable and compostable
Pros
Numbered handles so that you never mix up toothbrushes
Affordable
Each toothbrush is in an individual cardboard box
Cons
Bristles are made up of nylon and are not biodegradable
7 – Ecoboom Bamboo Toothbrush with Replaceable Heads
Ecoboom Toothbrush is made of deep mountain fresh bamboo that is not easy to rot. It is designed with a replaceable toothbrush head and comes with a toothbrush and two toothbrush heads. After a little time, you can keep the toothbrush handle so that it can be used again, just replace the toothbrush head. The smooth, durable and lightweight toothbrush handle makes you love it. Bamboo is harder than wood and more durable and healthier than any plastic.
Ecoboom charcoal infused bristles are rich in bamboo charcoal which can quickly absorb stains on the teeth and keep teeth clean. The medium-soft bristles are designed for sensitive teeth and gums.
Not only can you keep your mouth fresh like a normal toothbrush, but it can also help the environment! Ecoboom Toothbrush is a perfect gift with 100% bamboo packaging, zero plastic, and zero pollution.
Key features
Bamboo fiber bristles
Removable toothbrush head
Smooth and comfortable
100% bamboo recyclable packaging
Charcoal infused bristles
BPA free
Pros
Lightweight
Replaceable and more economical
Zero pollution
Perfect for sensitive teeth
Ideal zero-waste gift
Cons
Sometimes the replacement heads start to wiggle and become loose after use
8 – Isshah Biodegradable Eco-Friendly Natural Bamboo Charcoal Toothbrushes
Isshah Bamboo Toothbrush is the right step to go green and eco friendly while getting the same great results you would with a traditional plastic brush that you are used to using!
These bamboo toothbrushes are biodegradable themselves and come in 100% recyclable packaging. The container is made of craft paper, so there are no worries about polluting the environment when you throw it away.
The Isshah toothbrush comes in a package of 4, guaranteed to last you for a whole year. There are 2 different pattern options: engraved and blank, both costing the same amount.
The smooth and all-natural bamboo handle will never splinter and is water-resistant. Bamboo is more durable and much more environmentally friendly than plastic toothbrushes, making it a better choice for dental hygiene.
There is no need for drying the handle after each use. Just rinse your toothbrush and place it back on the shelf like you would with any other toothbrush.
Key features
Pack of 4 toothbrushes
100% recycled biodegradable packaging
Smooth and comfortable bamboo handle
BPA free
2 pattern options: engraved and blank
Pros
Biodegradable brush and packaging
Splinter and water-resistant
Can be treated the same as any other plastic toothbrush
Cons
Bristles were reported to have fallen out
9 – Bamboo Toothbrushes by Vaireo – Bamboo Wooden Toothbrush for Kids and Adults
Vaireo toothbrushes along with its parts and accessories such as the bristles, the handle, the packaging, and even the box are made of biodegradable material. The toothbrush ergonomic handle is made of 100% untreated natural bamboo which makes it light and strong. They are as effective and can be used as long as plastic ones.
Toothbrush bristles are made of Nylon 6, which is a product of natural castor oil and is currently the best solution for making efficient and eco-friendly bristles.
Bristles are soft and are BPA free and non-toxic. They are perfect for daily use and are not aggressive to tooth enamel and gums. The colorful medium-soft bristles remove plaque effectively because they intersect and slide into the gaps between the teeth.
Vaireo toothbrush outer box is made of cardboard and manufactured without any adhesives, tape, glue or chemicals. These reusable bamboo toothbrushes are definitely a must for the entire family!
Key features
Sturdy and smooth bamboo handle
Pack of 6 toothbrushes
Vibrant colors and lovely design
Antimicrobial properties
BPA free
Toothbrushes are individually pre-packaged in recyclable cardboard boxes
Biodegradable toothbrush
Pros
Sweeps away plaque and bacteria from your mouth
Great for teeth whitening and removing tough stains
Suitable for everyone: young children, adults, and even senior citizens
Perfect for gums
Cons
Head is too big to be comfortable
10 – Bamboo Naturals Toothbrush Holder
Your bathroom is a great place to start if you want to reduce your plastic waste. All those bottles of soap, shampoo and shower gel can easily be replaced by more eco friendly alternatives and so can your toothbrush.
This elegant 2 in 1 bath accessory helps organize any bathroom counter. The set includes a toothbrush holder and storage for toothpaste, etc. This aesthetically pleasing bath caddy is made from durable bamboo which grows at the same rate, or faster than we use it.
Key features
Made from durable bamboo
Set includes a toothbrush holder, and storage
Great accessory for any bathroom
Functional and stylish at the same time
No assembly required
Pros
Bamboo has high water resistance
Aesthetically pleasing bamboo caddy
Cons
Occasionally the main base detaches itself from its joints
Best bamboo toothbrush buying guide
A natural bamboo toothbrush is a trending option for people who are looking for a more sustainable and eco-friendly alternative to the traditional plastic toothbrush. Changing to a bamboo toothbrush is such a simple and effective way to do more for the environment.
Things to consider when buying bamboo toothbrushes
Bamboo toothbrushes are getting popularity these days for being eco friendly, but they have been around for centuries. To keep up with the demand, more and more companies are manufacturing these eco-friendly items. When choosing your bamboo toothbrush, keep in mind the following considerations:
Bristles
Nylon is the most common material used to make toothbrush bristles, and bamboo toothbrushes are no exception. The bristles may be softer for those with more sensitive gums, or they may be coarse. Nylon bristles are not biodegradable.
Most bamboo toothbrush bristles are made from nylon 6 which is expensive to recycle and therefore will generally end up in the landfill.
While the inclusion of nylon means many bamboo toothbrushes are not 100% compostable they are still far better for the environment overall than a toothbrush made entirely from plastic. When you look at the overall size of your toothbrush the bristles are only a tiny part. If you can save the rest of it from the bin, you will be creating significantly less plastic waste then you were before.
Many bamboo toothbrush manufacturers are now making bristles from a mixture of nylon and other materials including charcoal. This means that the amount of petroleum used is even less. Plant based bristles made from corn or bamboo fiber are also in use.
Toothbrush handle and head size
While selecting a toothbrush, two key areas that should be emphasized include size of the head and shape of the handle. Ideally, the head of toothbrush should fit comfortable in your mouth. It should neither be too big nor too small for your mouth. The handle of toothbrush should be easy to hold i.e. it should be neither very large nor very small.
Extra care to maintain longevity
Bamboo toothbrushes are as durable as plastic ones, but they require a little bit more care to maintain longevity. Always store your natural bamboo toothbrush in a dry place where it does not stay wet or get accidentally wet.
Caring, cleaning, and storing your bamboo toothbrush
You can take care of your bamboo toothbrush the way you normally would with a regular plastic toothbrush. With proper care, your bamboo toothbrush will last just as long as a conventional plastic toothbrush.
Rinse and remove debris from the bristles
After every use, rinse the brush with clean water and make sure that there are no food debris or residue caught between the bristles.
Store in a clean area
Bamboo is a natural material that keeps the best when kept in a clean and dry area. Don't let your brush touch other toothbrush heads to prevent the exchange of bodily fluids and the spread of bacteria.
Keep it dry
Bamboo toothbrushes require just a tiny bit more care than a regular toothbrush. It's best to keep your toothbrush in an open-air and clean toothbrush holder or any other dry area. This ensures the bamboo stays dry throughout the day, keeping the toothbrush in better condition longer.
Replace as needed
The bamboo brush should be replaced in the same way as a plastic toothbrush i.e. every 2 to 3 months when bristles deform and change their shape permanently. Replacing toothbrushes at a suitable time promotes good oral hygiene.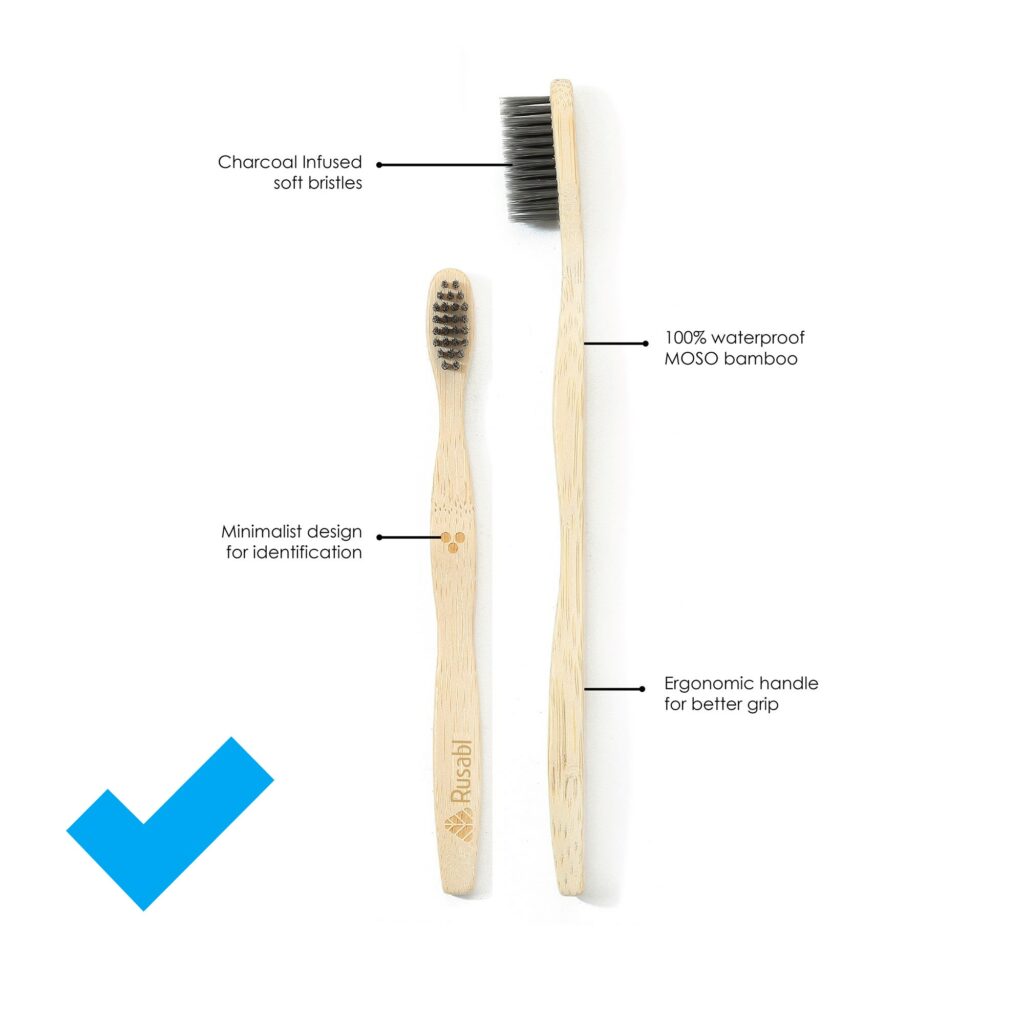 Recycling, composting or disposing your bamboo toothbrush
Making the switch to a compostable bamboo toothbrush is actually almost as simple: you compost the packaging, use the toothbrush for a few months, and compost the toothbrush. You should practice Proper disposal for each part of the toothbrush.
Pluck out the bristles
Use pliers to remove the bristles from the head. To make it as easy as possible, don't try to pull out too many bristles in one go, and use a slight rolling action. This will pull the bristles and the little metal staples out smoothly and cleanly. Since they are small and lightweight, it may get lost if placed with larger plastics in a recycling bin. Find a plastic container suitable for recycling and trap the bristles inside.
Upcycle or compost the handle
The bare toothbrush handle can be disposed of in a commercial composting bin and will safely return to the soil within 6 months. Or you can compost it in your own home. However, the handle is a perfectly good piece of high-quality bamboo – feel free to reuse it! There are countless ways to transform it into crafty home decors.
Reuse or recycle the packaging
Like the handle, feel free to creatively reuse the packaging. Dispose of the box in a recycling or green waste bin.
Why bamboo toothbrush is good for use
Most people would ask "Why switch to Bamboo toothbrush?" Bamboo toothbrush gives an extensive range of benefits that sets it apart from other toothbrush types. Some of the reasons for you to switch to bamboo toothbrush are as follows:
Bamboo is Eco-Friendly
Plastic is toxic to the environment and should be avoided whenever possible. A plastic toothbrush will take so long to decompose in a landfill and can float in the ocean for even longer. However, after removing the bristles from a natural bamboo toothbrush, you can safely throw it away in your garden or find another use for it.
Trendy and popular
These days everyone is replacing their plastic toothbrushes with bamboo instead. People are getting more and more aware of harms caused by plastic toothbrushes and are switching to bamboo ones.
Aesthetics and design
Bamboo toothbrushes are classy and unique. These toothbrushes sometimes come in compostable and recyclable packaging and thus, contribute to the total eco-friendly vibe surrounding the products.
Preserving oral hygiene
Bamboo toothbrushes are naturally antimicrobial. This attribute ensures that bacterial cannot easily grow on a bamboo toothbrush. They fight microbes while cleaning your teeth to the possible level of perfection. Even with the antimicrobial attributes, it is advisable to always rinse your toothbrush after use.
Sustainability
Bamboo is much more sustainable than plastic because it's fast growing, renewable, and requires far less water than similar plants. Bamboo plants take very little time to grow per day. Unlike other trees, bamboo forests can fully grow in 3 to 5 years. Bamboo can almost grow two feet in a single day!
Fact

Bamboo can almost grow two feet in a single day!
With its anti-microbial composition, the bamboo plants do not have the need for fertilizers or pesticides for its growth. That is, bamboo toothbrushes all use only organic materials for their build.
Why bamboo toothbrushes bad for use
Having understood the benefit of Bamboo toothbrush, there is a need to know the shortcomings of Bamboo toothbrush. They are the disadvantages that you should keep in mind before buying the bamboo toothbrush. We recommend you to check all the things in toothbrush before buying it for yourself
Non biodegradable packaging
Some manufacturers place their biodegradable products in plastic wrapping. This will not fulfill your zero-waste lifestyle. Go for a toothbrush that comes with biodegradable and recyclable packaging.
No frills
While bamboo brushes are customizable as far as colors and bristles are concerned, they are still your basic toothbrush. There are currently no frills like rubber grips or tongue scrapers, etc.
Non biodegradable bristles
In most of bamboo toothbrushes, the bristles are made of Nylon, which is not compostable or biodegradable. This is a common misconception. Remove the bristles before disposing of the bamboo toothbrush.
Some manufacturers also advertise Nylon-4 bristles, which have been shown to biodegrade under certain conditions. Most of them are usually made with Nylon-6 bristles that are in fact not biodegradable.
Dry slowly
Bamboo toothbrush dry more slowly and should be stored towards minimizing contact with germs.
Frequently asked questions (FAQs)
How long do bamboo toothbrushes last?
We recommend replacing your bamboo toothbrush every 2-3 months. To promote good dental hygiene, you want fresh, perky bristles that clean between the teeth. Further, since bamboo is a natural, biodegradable substance, eventually the bamboo will begin to break down.
Are bamboo brushes effective?
Yes! The material used for the handle has nothing to do with how effective the toothbrush is. The bottom line is that you need to use the toothbrush properly for it to be effective. It depends upon how often you brush, brushing technique, bristle material,  how worn the bristles are and type of toothpaste you use.
The ADA (American Dental Association) recommends brushing your teeth twice a day for 2 minutes. Use a soft bristle brush with a shape and size that fits your mouth allowing you to reach all areas easily.
Why switch to Bamboo Toothbrush?
Definitely! Bamboo toothbrushes are better for the environmentally for many reasons: 
Bamboo is much more sustainable than plastic because it's fast growing, renewable, and requires far less water than similar plants. Unlike other trees, bamboo forests can fully grow in 3 to 5 years and guess what? Bamboo can almost grow two feet in a single day!

Bamboo absorbs large amounts of carbon dioxide and produces around 35% more oxygen than other plants, thus making our environment more cleaner.

It has some great natural properties like antibacterial, antifungal, super strong and capable of filtering air and water.

Bamboo is 100 percent organic so bamboo brush can simply be composted and will biodegrade naturally. On the other hand, plastic waste can take up to a thousand years to decompose.

Bamboo is naturally pest-resistant, this means no pesticides are required to grow it. After you are done with your bamboo toothbrush, you can feel good knowing that it will not spend thousands of years in a landfill.
Conclusion
Dentists recommend cleaning your teeth twice a day. The next time, when you consider buying your toothbrush, ask yourself a question "Is there an eco friendly and plastic-free alternative available?" The answer is "YES"!
Using a plastic toothbrush doesn't make much sense especially when a more eco friendly and natural alternative is available. Comfort, hygiene, and pollution-free earth are all considered when it comes to bamboo toothbrushes versus the plastic alternative.
The bamboo brushes are biodegradable and are easy for you to swap; so you can feel satisfied and be part of 'no plastic movement'.Use eco-friendly natural bamboo toothbrush, which uses organic bamboo with antibacterial properties. So now you can take an easy step towards saving the planet while taking care of your oral hygiene.
Make your decision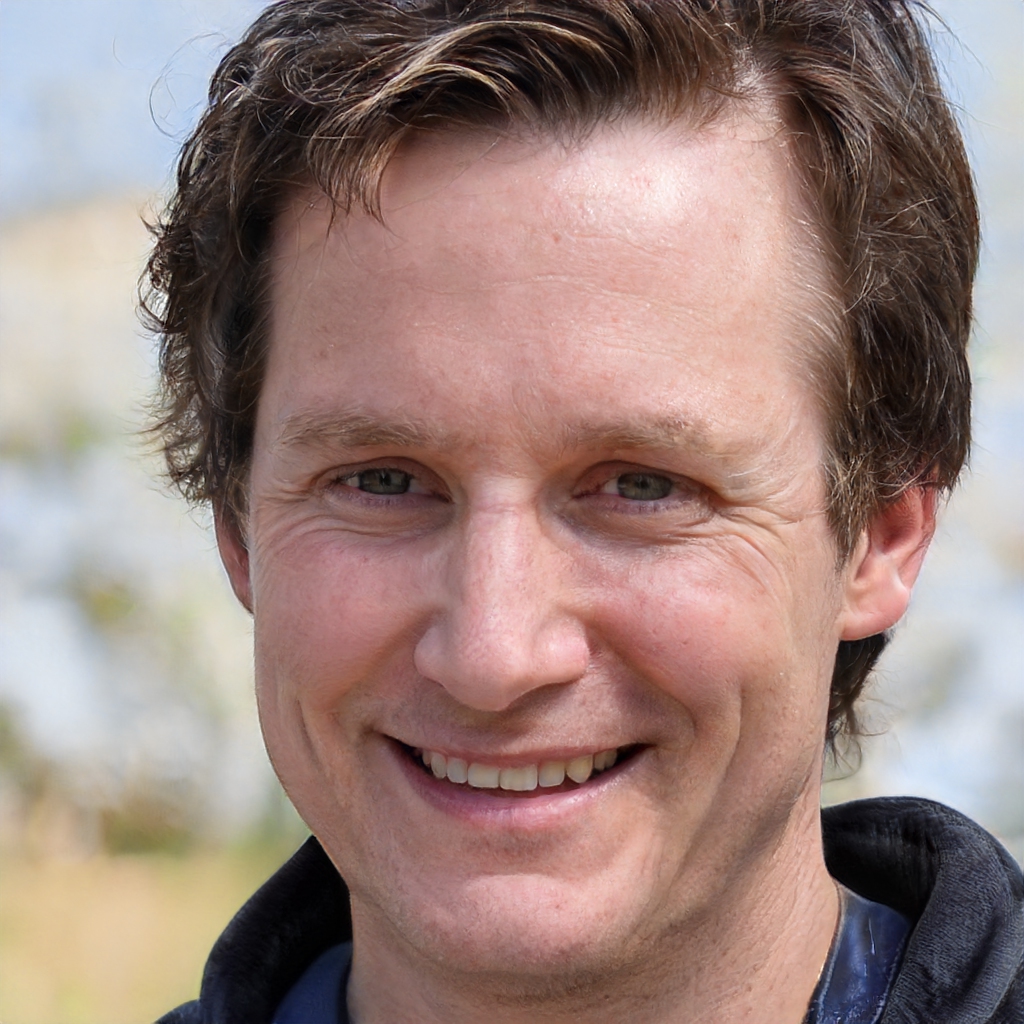 Dr Michael Jones is the proud founder of The Toothbrush Expert. He has been working as a dentist for 21 years now. Besides his work as a dentist, Michael wants to help people to find the right dental products. His goal is to provide everyone with honest expert reviews on all kinds of dental care products.