Gingivitis is an oral health issue that can cause you pain and frustrate you. Getting a solution might have been elusive, but there are toothpaste products that can help you heal this gum disease in its early stage. In this article, we will help you identify the best toothpaste for gingivitis.
All medical content on this site, including this guide and other product reviews, is written by our team of experienced writers and researchers. All writers from The Toothbrush Expert are recommended and reviewed in the industry. You support us through our editorially chosen links, which earn us commission. Learn more

All of our picks have the American Dental Association (ADA) Seal of Acceptance.
Quick Overview (comparison)
Just in case you want to skip the long and detailed review of what is the best toothpaste for gingivitis in each category, here it is:
Top 10 Best Toothpaste For Gingivitis
Toothpaste products for gingivitis are not as common as other regular types. We invited dental professionals to join our experienced team of researchers in finding the best options on the market. After several tests, our seasoned team identified the following as the top products on the market:
1 – Crest Gum & Enamel Repair, Toothpaste for Gingivitis

(Best Pick 🥇)
Our research team and experts were unanimous on the efficacy of this toothpaste. The product is specially formulated to ensure that your gum and enamel stay healthy. With this toothpaste, you can resolve any problem with your gum or enamel. It is formulated with stannous fluoride, an active ingredient that helps to remineralize weakened enamel. This ingredient also helps to neutralize plaque bacteria around your gum line, thereby protecting you from gingivitis.
This toothpaste does not only deal with enamel and gum troubles; it also boasts a whitening action that gently eliminates surface stains, leaving you with stronger teeth and whiter smile. This product's functions don't stop there; it offers an activated foaming action that can help you penetrate the hard-to-reach areas in your for a thorough clean every brushing session. Thanks to this action, you can be able to neutralize harmful bacteria effectively, helping you to treat and also prevent gingivitis.
Moreover, this toothpaste is clinically proven to reverse gingivitis, making it quite valuable. It contains hydrated silica, a mild abrasive that is gentle and very effective for cleaning. Other inactive ingredients include water, sorbitol, sodium lauryl sulfate, carrageenan, flavor, sodium gluconate, xanthan gum, zinc nitrate, sodium saccharin, stannous chloride, sodium hydroxide, titanium dioxide, sucralose.
Quantity
Pack of 3
Key Features
Stannous fluoride
Gum repair
Enamel repair
Activated foaming action
Whitening action
Hydrated silica
Pros
Helps to reverse gingivitis
Neutralizes plaque bacteria
Remineralizes weakened enamel
Penetrates hard-to-reach areas
Cons
The package comes with only tube instead of three
2 – Parodontax Whitening Toothpaste
This product is another toothpaste clinically proven to reduce bleeding gums. When faced with bleeding gums, you don't want to leave them untreated and risk periodontitis and tooth loss. The toothpaste is specially formulated to ensure your overall gum health stays great with regular use. It removes plaque effectively, helping you to get rid of the main architect of blessing gums. When used twice daily, the product helps to stimulate stronger teeth and healthier gums.
This toothpaste contains stannous fluoride, a compound that helps to strengthen teeth and keep the seal between the teeth and gums tight, reversing the move to gum disease in the process. The product offers a great taste that encourages you to brush regularly. It also offers effective cavity protection and fresh breath, leaving you with great oral health.
Furthermore, this toothpaste has the impressive power to reverse gingivitis effects and help you stay healthy. It also offers whitening action, helping you to remove surface stains for whiter teeth. The package contains three 3.4 oz tubes of toothpaste, providing an adequate solution to your bleeding gums and reversing gingivitis. If you're not satisfied with your product, you can contact the manufacturer within 45 days of purchase and get a refund.
Quantity
Pack of 3
Key Features
Anti-cavity
Gingivitis treatment
Stannous fluoride
Whitening action
Pros
Reverses gingivitis
Whitens teeth
Prevents cavities
Refund guarantee
Cons
3 – Crest Gum Detoxify Toothpaste
Millions of harmful bacteria can lurk around your gum line, causing plaque to build up. This situation may likely result in gingivitis, a disease you want to avoid as much as possible. Our team identified this Crest Gum Detoxify toothpaste to be very helpful in helping you avoid gingivitis. It features an activated foam formula that helps to penetrate hard-to-reach areas so you can neutralize plaque bacteria around your gum line for healthier gums.
Besides, this toothpaste is formulated to cool your gums when and after brushing, providing a refreshing clean. It offers a pleasant flavor that makes you want to brush every hour if possible. With the presence of stannous fluoride, you're guaranteed of strengthened teeth. There's also the hydrated silica that delivers gentle, yet effective cleaning.
Other ingredients include water, sorbitol, zinc citrate, Sodium Lauryl Sulfate, sodium hydroxide, titanium dioxide, sucralose, sodium saccharin, carrageenan, flavor, stannous chloride, xanthan gum, and sodium gluconate. With this product, your gums are in safe hands.
The package contains 3 tubes of toothpaste.
Quantity
Pack of 3
Key Features
Activated foam formula
Stannous fluoride
Hydrated silica
Gingivitis treatment
Pros
Neutralizes plaque bacteria
Penetrates hard-to-reach areas
Pleasant flavor
Cools gums
Cons
Not for sensitive teeth
A bit expensive
4 – Crest Pro-Health Pro|Active Defense Toothpaste
This toothpaste makes your oral health a priority with an antibacterial technology that promises 24-hour complete mouth protection. This active defense technology helps to neutralize plaque bacteria for healthier gums. There's also the activated foam formula that ensures delivery to all areas of your mouth to defend and shield against potential dental health issues. Hence, you're left with an untroubled dental health that ensures your wellbeing.
Moreover, this toothpaste helps to keep your gums healthy by neutralizing all bacteria on your tongue, teeth, and gums with twice-a-day brushing. These active actions help to prevent dental health issues such as cavities, sensitivity, tartar, and most especially gingivitis.
Also, this toothpaste helps to strengthen enamel, freshen breath, and also reduce sensitivity. It also helps to prevent or lower enamel erosion caused by dietary acids. The product is accepted by the American Dental Association (ADA) thanks to its impressive functions.
The package includes three 4.0 oz tubes of toothpaste for prolonged use and better results.
Quantity
Pack of 3
Key Features
Antibacterial technology
Activated foam formula
Anti-sensitivity
Cavity protection
Tartar control
ADA accepted
Pros
Neutralizes plaque bacteria
Prevents or reduces sensitivity
Strengthens enamel
Prevents gingivitis
Cons
5 – Sensodyne Repair & Protect Sensitive Toothpaste
This toothpaste is formulated to provide complete protection for your mouth, including your teeth and gums. While it is specially formulated to provide relief for sensitive teeth, it also has the impressive capability to deal with other oral health issues. This product offers cavity protection, helping you to restore your teeth's natural whiteness. Thanks to the stannous fluoride in the formula, minerals are delivered into the surface of the tooth enamel to strengthen your teeth and fight cavities.
Besides, this toothpaste creates a protective layer to cover your exposed dentin's vulnerable areas. It offers you protection from painful triggers, providing long-lasting sensitivity protection. With twice-a-day brushing, this product can deliver whitened teeth in only two weeks. It also helps to deal with gingivitis, leaving you with healthy teeth and gums.
The package contains two 3.4 oz tubes of toothpaste that will last you for a long time and deliver the needed results. The manufacturer offers you the chance to return the product for a refund within 45 days of purchase if you're not satisfied with it.
Quantitiy
2 Pack
Key Features
Stannous fluoride
Anti-sensitivity
Anti-cavity
Gum protection
Pros
Strengthens teeth
Provides relief for sensitivity
Prevents cavities
Cons
6 – Colgate MaxClean Whitening Foaming Toothpaste
This toothpaste is another product to look out for if you're looking to deal with your gingivitis successfully. It is specially formulated to foam more when brushing your teeth. The formula can get around your gums and in between your teeth, helping you remove germs and bacteria in even hard-to-reach areas to prevent diseases such as gingivitis.
Moreover, this toothpaste can fight cavities and keep your teeth and gums healthy with regular use, that is, twice-a-day brushing. Thanks to the present effervescent mint flavor made with natural mint, you get freshened breath that makes you feel very clean and amazing. This product also offers whitening action that eliminates surface stains to whiten your teeth. The light blue is completely free of gluten and sugar, making it quite safe for your oral health.
Furthermore, this toothpaste has everything to make you love as it ensures you don't have dry mouth. The manufacturer offers six 4 oz tubes of toothpaste in the package, guaranteeing you prolonged use for effective protection.
Quantity
Pack of 6
Key Features
Whitening action
Fluoride
Mint flavor
Foam action
Gingival protection
Light blue gel
Gluten-free
Sugar-free
Pros
Great foam action
Fights cavities
Whitens teeth
Cons
7 – CAREDO Healing Periodontitis Toothpaste
Periodontitis is the product of inflammation of the soft tissues around the teeth and gums, an unpalatable condition that may cause tooth loss and damage to bodies. This toothpaste is specially formulated to heal periodontitis and give you healthy oral health. If you are in your early-middle stage of periodontal disease, this product is what you need to get quick and effective cleaning so you can return to normal in a matter of months. Not only does this formula fight periodontitis, but it also treats cracked teeth, dental caries, and gingivitis.
Issues caused by the periodontal disease include sensitive teeth, loosened teeth, difficulty chewing, pain, and bleeding gums. All these problems are completely treatable with this healing toothpaste. With the product, you can get sensitive teeth, bleeding gums, tartar, and plaque bacteria under control.
This healing toothpaste helps to restore the periodontal fibers of your periodontal ligament. It also has the impressive capabilities to regenerate alveolar bone and eliminate toxins in the periodontal pocket. Finally, this product helps to promote your recovery from periodontitis and halt reoccurring inflammation. The toothpaste's active ingredient is Histidine, an amino acid essential for tissue repair and growth. The inactive ingredients include calcium carbonate, deionized water, glycerol, sodium lauryl sulfate, edible saccharin sodium, carboxymethyl cellulose, and spearmint flavoring.
Quantity
One pack
Key Features
Periodontitis treatment
Gingival treatment
Sensitivity control
Tartar control
Plaque control
Pros
Eliminates plaque and tartar
Treats gingivitis effectively
Heals periodontitis
Cons
8 – Colgate Total Pro Gum Health Toothpaste
Without any doubt, your gum deserves and require maximum care. This Colgate total toothpaste, eighth on our list, is specially formulated and clinically proven to enhance your gum health. It works hard to reduce gum inflammation and gum bleeding while also reducing gum disease and fighting cavities, tartar, and plaque. By eliminating plaque, the source of gingivitis is dealt with, and your oral health is kept safe.
Bacteria around the gum line are usually responsible for gum issues like gingivitis. You need an effective oral care product to help you protect your gum line and you can that from this toothpaste. It doesn't just fight bacteria on your teeth, it also goes into your gums, tongue, and cheeks. The product protects your teeth, gums, and tongue for up to 12 hours. After four weeks of regular use, you start to get results.
Also, this toothpaste reduces the progression of periodontitis. Thanks to a unique antibacterial system, fighting tartar and plaque is quite easy. It is formulated with impressive ingredients such as hydrated silica (mild abrasive for effective cleaning) that make it deliver great oral care. Other ingredients include glycerin, aqua, arginine, zinc oxide, aroma, sodium lauryl sulfate, poloxamer 407, cellulose gum, tetrasodium pyrophosphate, zinc citrate, benzyl alcohol, sodium fluoride, cocamidopropylbetaine, sodium saccharin, eugenol, sucralose, and phosphoric acid.
The pack size is 75ML.
Quantity
One pack
Key Features
Sodium fluoride
Hydrated silica
Plaque control
Tartar control
Gum protection
Antibacterial system
Pros
Fights plaque and tartar
Reduces gum inflammation
Reduces progression of periodontitis
Effective cleaning
Cons
9 – Sensodyne Complete Protection Sensitive Toothpaste
Your oral health should always be a priority, and you can make it one with this effective toothpaste. While the product is specially formulated to deal with sensitivity, it can also help improve overall oral health with twice-a-day brushing. The toothpaste fights gingivitis hard and delivers effective results in little time. With stannous fluoride, this product offers anti-cavity protection. It also protects you from pain triggers.
Besides, this toothpaste helps to reharden, rebuild enamel, and restore your stained teeth's natural whiteness. At 3.4 ounces, this product comes in a comfortable travel size within the requirements of TSA, making it easy to travel with. It delivers excellent clean feeling with fresh breath, making you feel great. You can count on this product to deliver all the goods for your oral health.
This toothpaste's ingredients include glycerin, hydrated silica, PEG-8, pentasodiumtriphosphate, cocamidopropylbetaine, sodium lauryl sulfate, sodium saccharin, titanium dioxide, flavor. If you're not satisfied with the product, the manufacturer offers you the chance to return it within 45 days of purchase for a refund. However, you need to buy from an authorized seller to be eligible for this guarantee.
Quantity
One Pack
Key Features
Stannous fluoride
Hydrated silica
Sensitivity protection
Gingivitis treatment
Anti-cavity
Pros
Freshens breath
Strengthens enamel
Sensitivity relief
Prevents cavities
Cons
10 – TheraBreath 24 Hour Healthy Gums Periodontist Formulated Oral Rinse
The last product on our list is an oral rinse that equally deals with gingivitis and other oral health issues effectively. It is developed by Dr Harold Katz, the renowned expert in the fields of taste disorders, dry mouth, tonsil stones, and bad breath. The oral rinse is perfect for gum troubles associated with plaque buildup, tartar buildup, aging, diabetes, pregnancy, and bleeding gums. It is an effective and safe treatment to get rid of bacteria and the common symptoms of gingivitis.
Besides, this oral rinse contains cetylpyridinium chloride (CPC), an ingredient clinically proven to neutralize germs linked to gingivitis and other periodontal issues. CPC targets the bacteria responsible for gingivitis, the early stage of gum disease. It also fights periodontitis, the later stage of gum disease. The product adds xylitol, a sweetener that neutralizes the decay process.
Also, this oral rinse contains oxygenating compounds and zinc compounds to neutralize germs responsible for bad breath. This product, with a clean mint flavor, does not contain any artificial color or flavor. The package contains two 16-ounce bottles. If you're not satisfied with the oral rinse, the manufacturer offers a refund within a timeframe.
Quantity
2 Pack
Key Features
Clean mint flavor
Gingivitis protection
Alcohol-free
No artificial colors
No flavors
Vegan
Gluten-free
Pros
Fights early stage and later stage gum disease
Neutralizes bad breath
Does not contain any artificial color or flavor
Refund guarantee
Cons
Buying Guide on Toothpaste for Gingivitis
Gingivitis is a serious gum disease that requires urgent attention to stop further problems. Toothpaste is one of the essential care products but buying the right one for gingivitis is not as easy as it may seem. There are different toothpaste brands and types on the market with different functions and specializations. To deal with your gingivitis, you need a specialized toothpaste to do the job and finding the perfect one may pose a tough challenge. Our dental experts gave us several tips on how to choose the best toothpaste for gingivitis. We went on to develop a comprehensive guide that contains all the vital information you need to buy the perfect toothpaste for your condition. This buying guide promises to help you make a great choice without stress.
Where do you pay attention to when buying a toothpaste?
There are many toothpaste products for gingivitis on the market with the same goals; prevent or heal and reverse gingivitis. To find the right option for yourself, you must consider a few important things. Below, we will discuss some of those things to pay attention to when buying toothpaste for gingivitis.
Price history of a Toothpaste
It is really annoying to go for a fake deal. You see them all the time. We don't mean fake as in the webshop does not exist, or the product advertised is not available anymore. No, this is when a retailer like Amazon tells you there is a huge discount and that is not exactly the truth. The headline says it is 30% off or save 100 dollar, but look a little closer and the savings are not as they seem. The truth is, the price these discounts are based on is original RRP (recommended retail price) and this is usually way higher than what the item has actually been selling for in the webshops.
But it is not as simple as saying these promotions are lies, there will be legitimate promotions advertised in this way. Or the saving might still be decent, but perhaps not as big as the promotion shows. So, how do you know when you are being misled and when you are getting a great deal? Here is some price history for toothpastes on Amazon.
1 – Crest Gum & Enamel Repair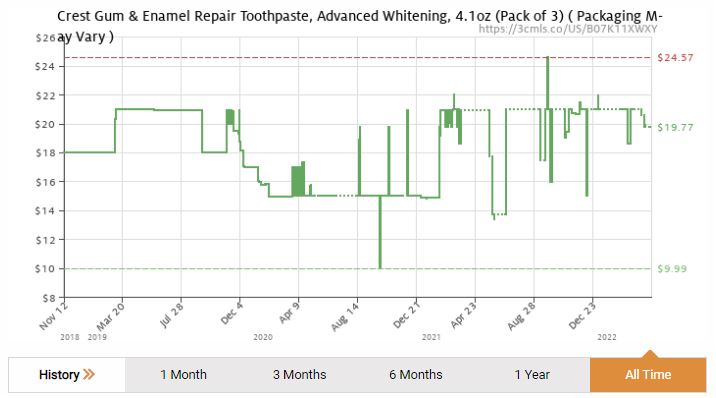 2 – Parodontax Whitening Toothpaste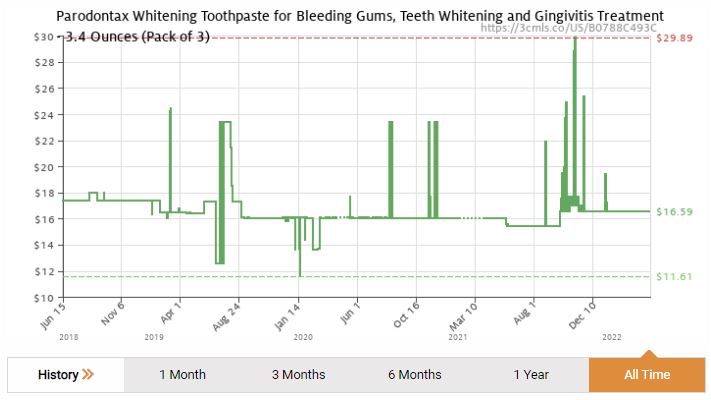 Ingredients
Toothpaste products are formulated with different ingredients that make them function. You might have noticed that the majority of the products on our list feature fluoride as their active ingredient. There are several reasons why most manufacturers opt for this compound as their active ingredient. It delivers several functions that help your oral health greatly.
Stannous fluoride
Plaque bacteria in the mouth are usually responsible for bleeding gums. Stannous fluoride is a compound that helps neutralize these bacteria. It removes plaque and prevents dental cavities. This compound is clinically proven to help mitigate bleeding gums.
Sodium fluoride
This compound is another antibacterial variant of fluoride that is quite effective for killing bacteria that may cause gingivitis.
Fluorides are generally considered safe to consume. But some people may be concerned about their long-term effects. Skipping it is alright, and you can still get fluoride-free brands that are beneficial for your gums.
Triclosan is another ingredient that prevents gingivitis. It can be found in some toothpaste products in the US. There's also hydrated silica, a mild abrasive that delivers efficient cleaning.
Overall, the ingredients in your toothpaste determine their effectiveness so you should do well to check the ingredients' list and ascertain their potency before making your choice.
Taste of the Toothpaste
Taste is an essential part of anything that enters the mouth as it gets exposed to the tongue. When you use your toothpaste, you want a sweet flavor that encourages you to brush regularly. An enjoyable flavor helps you to stick to a proper oral care routine. There are flavors such as extra fresh and mint that leave your breath fresh and your mouth feeling so clean. Therefore, when shopping for a toothpaste for gingivitis, go for an option that tastes good and will make brushing convenient and fun.
Specialized
There are different types of toothpaste for different dental health issues. There are types specially formulated for bleeding gums while some are formulated for sensitive teeth. When battling gingivitis, you should know that a regular toothpaste won't help you. You need a specialized toothpaste for gum issues to get results. If you have sensitive teeth and also gingivitis, there are specialized products that can treat the two issues simultaneously. When buying toothpaste to treat your gingivitis, you should ensure you're choosing a specially formulated toothpaste for the problem.
ADA Approval
The American Dental Association (ADA) has a culture of approving tested and trusted toothpaste products. Approved products have been tested for effectiveness and safety by independent scientific experts. Such products earn the association's seal of approval. They also contain fluoride – an essential ingredient in any effective toothpaste. You should strongly consider a toothpaste with ADA's seal because it guarantees effective results.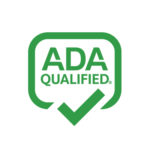 Guarantee
Everyone wants value for their money. Some manufacturers offer a refund if you're not satisfied with the toothpaste. It's advisable to buy such a product covered by a warranty. That way, you can have confidence that you're not throwing away your money.
Advantages of a Toothpaste for Gingivitis
Toothpaste for gingivitis offers several benefits that ensure you stay healthy. Some of these benefits include:
Removes plaque
Bacteria in the mouth are responsible for plaque buildup, a situation that may lead to gingivitis. Toothpaste for gingivitis removes plaque effectively and eradicates the chance of you contracting gum disease.
Controls tartar
Toothpaste for gingivitis is formulated to help you control tartar. By controlling tartar, you can prevent troubles for your gums.
Fights periodontal disease
Periodontal disease, if not attacked early, can lead to tooth loss. It can also cause damage to other parts of the body. A toothpaste for gingivitis works hard to attack the disease at the source and help prevent any threat to your health.
Freshens breath
Depending on the flavor used in toothpaste for gingivitis, you get to freshen up your breath. Freshened breath makes your mouth feel clean and also make you feel amazing.
Removes stains A toothpaste for gingivitis contains different ingredients that set out to perform different functions among which are removing the stains on your teeth and whitening them.
Disadvantages Of A Toothpaste For Gingivitis
While a toothpaste for gingivitis has its advantages, it also has disadvantages that don't bode well for the health of your teeth and gums. We'll discuss the notable ones below:
Sodium Lauryl Sulfate
This is a common ingredient in toothpaste products. Most manufacturers use it so it can help the toothpaste bubble up when being used. But different studies have revealed that it is bad for oral health. The chemical can cause dry mouth, allergies, and canker sore.
Hydrated Silica
While this ingredient is a mild abrasive, it's not great for sensitive teeth. It may worsen the condition it sensitive teeth. Persons with sensitive teeth should avoid toothpaste with hydrated silica.
Frequently Asked Questions
Do I have gingivitis or periodontitis?
Gingivitis is the early stage of gingivitis. When you have gingivitis, your gums become inflamed and bleeds during brushing. At this stage, your teeth are still well in place, and there's no bone damage. Gingivitis is a warning sign of gum disease, nudging you to take your oral health more seriously and find early remedies. If left untreated, it graduates to periodontitis.

Periodontitis, on the other hand, is the inflammation of the hard tissues that surround the teeth. When this disease develops, the bone and gum's inner layers pull away from the teeth to form pockets. As the pockets deepen, more bones and gum tissue are destroyed. Soon, teeth do no longer stay attached, and they start to loosen.

How do you tell if you have gingivitis or periodontitis? When you experience when chewing, your gingivitis may have progressed to periodontitis. If you get irritated, red or swollen gums, but your teeth are still firmly in place, you have gingivitis. But if a tooth or your teeth are loose, you likely have periodontitis. Lastly, if you notice a persistent unpleasant breath, your gingivitis may have progressed to periodontitis.
How can I get rid of gingivitis fast?
There are many ways to get rid of gingivitis fast.

Use an antibacterial toothpaste
The first step, as we have emphasized in this article, is an antibacterial toothpaste for gingivitis. It can help you fight plaque all night and day. The toothpaste neutralizes the plaque around your gum line, leaving you with healthier gums.

Brush your teeth regularly
You should brush your teeth for two minutes twice daily. We advise that you employ an electric toothbrush for more thorough cleaning. You should focus on brushing the gum line to remove plaque buildup around the area.

Use an antibacterial mouthwash
You can use an antibacterial mouthwash to get rid of plaque bacteria hiding in hard-to-reach areas. This formula is clinically proven to mitigate the development of gum disease.

Floss daily
Flossing is great for treating gingivitis. It helps to remove food particles that can aid and feed plaque.
Can toothpaste reverse gingivitis?
Gingivitis is a serious oral health issue, but it can be reversed. In the case of this disease, it's better to prevent it from happening, and if you can't, you should detect it early before it gets to the last stage that can be irreversible. With proper brushing and flossing, you'll get to remove plaque as it forms. A toothpaste containing fluoride can help to strengthen your teeth's enamel by restoring phosphorus and calcium. With great routine, your gingivitis reverses
Does salt water help gingivitis?
Salt water can be quite useful in the soothing, healing of gums affected by gingivitis. It possesses disinfectant qualities that can help your body heal itself. This water can also remove food particles and bacteria from the mouth. If you want to get rid of gingivitis, you can rinse with salt water twice or thrice daily, but not for too long. Frequent use may hurt your tooth enamel. Also, your teeth may erode due to long-term use.
How do dentists treat gingivitis?
Dentists first employ a procedure known as root planing and scaling to remove all traces of tartar, plaque, and bacterial products. Scaling helps dentists to remove bacteria and tartar beneath your gums and from your tooth surfaces. Root planing eliminates the bacterial products created by inflammation and smoothens the root surfaces to discourage the further buildup of bacteria and tartar. A thorough professional cleaning usually clears up gingivitis. After cleaning, dentists help to plan an at-home program and schedule of professional checkups.
Final Verdict
Getting rid of gingivitis is the top priority, and there are several toothpaste products to help you do that. We have dissected some of them in this article. There are many factors responsible for the effectiveness of toothpaste for gingivitis. In the best toothpaste for gingivitis, you'll find a great flavor, ADA approval, fluoride, and other essential ingredients that seek to heal your gums. Always stay positive and forget to show your perfect smile!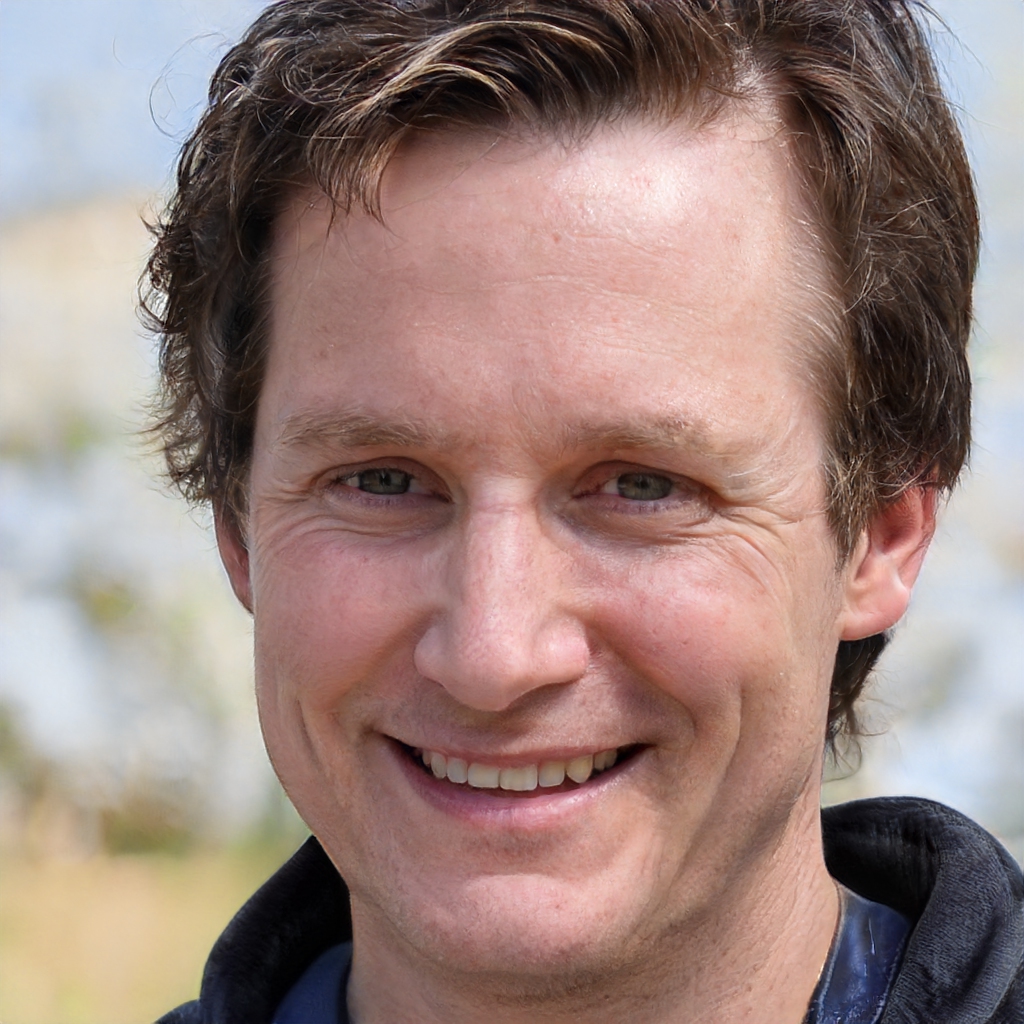 Dr Michael Jones is the proud founder of The Toothbrush Expert. He has been working as a dentist for 21 years now. Besides his work as a dentist, Michael wants to help people to find the right dental products. His goal is to provide everyone with honest expert reviews on all kinds of dental care products.